Yankees, Ichiro Suzuki finally agree to two-year, $13-million deal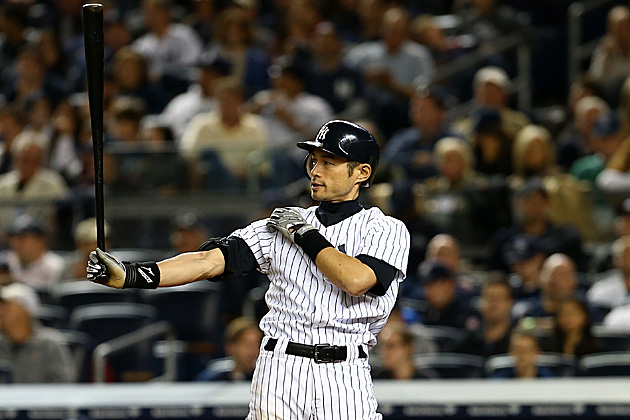 Ichiro is finally headed back to the Bronx. (Getty Images)
The Yankees and free-agent outfielder Ichiro Suzuki have been working toward finalizing a contract for the past week, and they have now agreed to terms on a two-year deal, the club announced Wednesday evening. The contract is worth $13 million, reports CBSSports.com's Jon Heyman.
Suzuki, 39, hit .283/.307/.390 with nine homers, 55 RBI, 77 runs and 29 stolen bases for the Mariners and Yankees last season. Once joining the Yankees, however, Ichiro appeared rejuvenated, hitting .322/.340/.454.
"The Yankees are the kind of team that I always envisioned being a part of," Suzuki said in a statement. "Everyone in the world of competition has a strong desire to win, but the Yankees also have an atmosphere where losing is not an option. These two observations may sound similar, but I believe it is a rarity to find both coexisting in the same organization.
"I believe the Yankees organization appreciates that there is a difference between a 39-year-old who has played relying only on talent, and a 39-year-old who has prepared, practiced, and thought thoroughly through many experiences for their craft. I am very thankful, and I will do my best to deliver on their expectations."
Unless another move is made, the Yankees' starting outfield is now set, with Brett Gardner in left field, Curtis Granderson in center and Ichiro in right.
Also of note here is that with this being a two-year contract, there's a chance Suzuki can pick up his 3,000th MLB hit with the Yankees. He currently stands 394 hits away from the mark. Over the past two seasons, Ichiro collected 362 hits, but remember he hit much better after joining the Yankees in a much more hitter-friendly ballpark and lineup.
For more baseball news, rumors and analysis, follow @EyeOnBaseball on Twitter, subscribe to the RSS feed and "like" us on Facebook.