Jeff Bagwell a member of lesser-known 1500-1500 club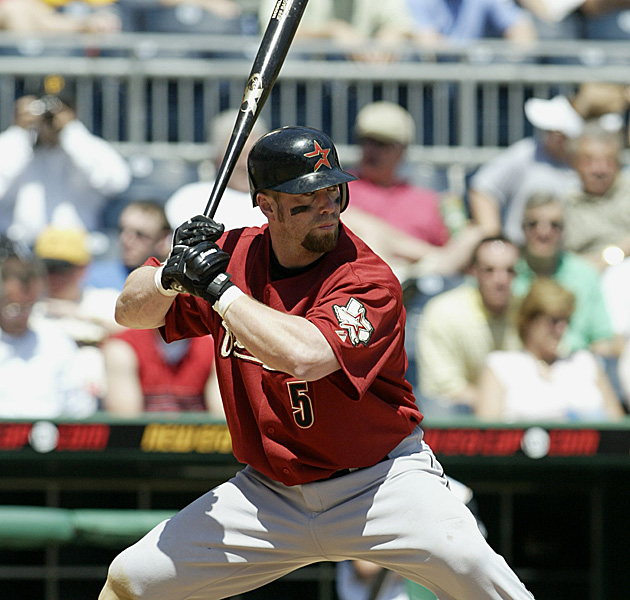 Jeff Bagwell was a historically successful run producer. (Getty Images)
Baseball has many unofficial "clubs." You know, the 3,000-hit club, 300-win club, 500-home run club, etc. We could talk about seasonal feats, too, like 30-30 or 40-40. In fact, the career measures don't even need modifiers. We know what 300, 3,000 and 500 mean.
Seeing as how run scoring is the name of the game on offense, though, shouldn't there be a benchmark club for runs and RBI? Well, there kind of is, it's just not really mainstreamed as much as the other clubs. Sporcle.com has a game to name all the members of this club.
It is the 1,500-1,500 club. That is, players who recorded more than 1,500 runs and 1,500 RBI -- and 2013 Hall of Fame candidate Jeff Bagwell is a member of that illustrious club. The club has 31 members, all of whom are either Hall of Famers, current players headed to the Hall of Fame or players who may be kept out of Cooperstown due to either evidence or speculation connecting them to PEDs.
Here is the list of 31 players, going from highest to lowest career OPS: Babe Ruth, Ted Williams, Lou Gehrig, Barry Bonds, Jimmie Foxx, Rogers Hornsby, Manny Ramirez, Mickey Mantle, Stan Musial, Jim Thome, Jeff Bagwell, Mel Ott, Alex Rodriguez, Ty Cobb, Willie Mays, Chipper Jones, Tris Speaker, Hank Aaron, Frank Robinson, Al Simmons, Mike Schmidt, Gary Sheffield, Ken Griffey Jr., Rafael Palmeiro, George Brett, Al Kaline, Reggie Jackson, Carl Yastrzemski, Eddie Murray, Dave Winfield and Cal Ripken Jr.
Quite the list, eh? But Bagwell's inclusion here is even more impressive because he was able to make it without reaching 10,000 career plate appearances. Only eight guys were able to do so, and Bagwell has the fewest plate appearances of the entire group. Check it out:
1,500 RBI/1,500 R with less than 10,000 PA
Sorted by least plate apperances
Player
Years
RBI
Runs
ABs
PAs
Jeff Bagwell
1991-2005
1529
1517
7797
9431
Rogers Hornsby*
1915-37
1584
1579
8173
9481
Al Simmons*
1924-44
1827
1507
8759
9518
Lou Gehrig*
1923-39
1995
1888
8001
9663
Jimmie Foxx*
1925-45
1922
1751
8134
9676
Manny Ramirez
1993-2011
1831
1544
8244
9774
Ted Williams*
1939-42, 1946-60
1839
1798
7706
9788
Mickey Mantle*
1951-68
1509
1676
8102
9907
It's only part of the equation, but in terms of run production, Bagwell certainly appears a Hall of Famer.
For more baseball news, rumors and analysis, follow @EyeOnBaseball on Twitter, subscribe to the RSS feed and "like" us on Facebook.