Remembering Roberto Clemente, 40 years after his death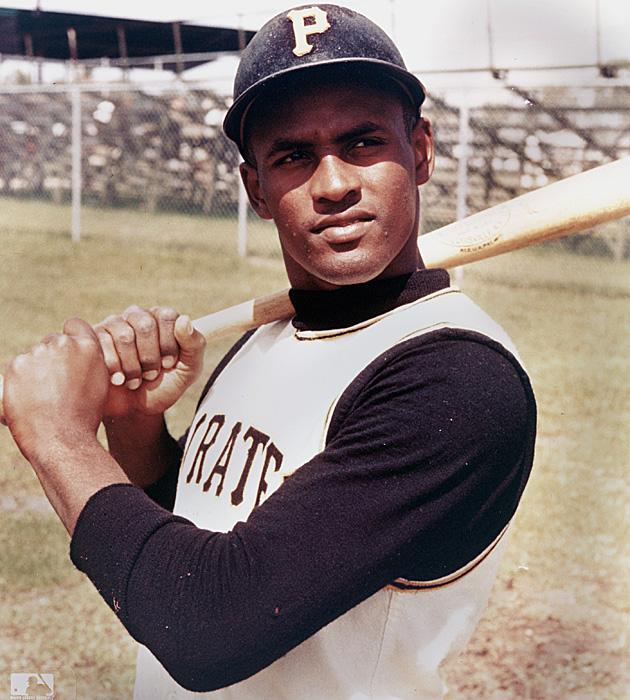 A young Clemente in 1955. (Getty Images)
Forty years ago today, the Pittsburgh Pirates and Major League Baseball lost Roberto Clemente. He was 38 years old. On this anniversary, let us remember the great ballplayer and, more importantly, the man he was.
Clemente was a 12-time All-Star, 12-time Gold Glove winner, a two-time World Series champion, a one-time NL MVP, a one-time World Series MVP -- and is enshrined in the Baseball Hall of Fame. He had a career line of .317/.359/.475 with 240 home runs, 1,305 RBI, 1,416 runs, 440 doubles and exactly 3,000 hits. Well-known for his amazingly strong throwing arm from right field, Clemente amassed 269 outfield assists in his 18-year career. He ranks 38th in career Wins Above Replacement player (baseball-reference.com version).
But it wasn't about the impressive numbers. Not with Clemente.
Clemente was the first Latin American inducted into the Hall of Fame and had endured serious racial tension upon joining the majors in 1955. He was the first Hispanic player to win an MVP and a World Series MVP, but it wasn't about race for Clemente, as he was quoted as having said: "I don't believe in color, I believe in people."
For Clemente, that's what it was all about. He was a caring and loving man, taking part in numerous charity ventures throughout his adult life. Despite being a professional athlete, Clemente joined the U.S. Marine Corps Reserve in the late 1950s. Posthumously, Clemente was awarded the Congressional Medal of Honor, the Presidential Citizens Medal and the Presidential Medal of Freedom.
Major League Baseball annually hands out the Roberto Clemente Award to the player "who best represents the game of baseball through positive contributions on and off the field, including sportsmanship and community involvement."
Clemente was a humanitarian even in death. He was already a well-off and incredibly famous baseball player when he boarded a plane Dec. 31, 1972. He was going to personally help in relief efforts at earthquake-devastated Managua, Nicaragua. Again, Clemente could have easily just donated money, but he wanted to personally join the effort. Unfortunately, he never made it.
The plane Clemente was aboard crashed into the sea off the coast of Puerto Rico. Clemente's body was never recovered.
A blog post of this variety could never do justice to the man Clemente was. He did everything the right way, on and off the field. We should all strive to be so well-rounded. I found this quote particularly revealing:
"I want to be remembered as a ballplayer who gave all he had to give." -- Roberto Clemente #RememberingClemente

-- Pittsburgh Pirates (@Pirates) December 31, 2012
Yes, Roberto, we remember you as that.
But if we only remembered him as that, it would be a serious disservice to the man he was. He was so much more than a guy who played hard. That quote alone illustrates his humility in addition to everything else he was.
So if you're out and about this New Year's Eve, perhaps take a moment to remember Roberto Clemente, one of the greatest baseball players in history, but, much more important, a model citizen in every facet.
For more baseball news, rumors and analysis, follow @EyeOnBaseball on Twitter, subscribe to the RSS feed and "like" us on Facebook.