Sergio Romo was handcuffed, detained in Vegas airport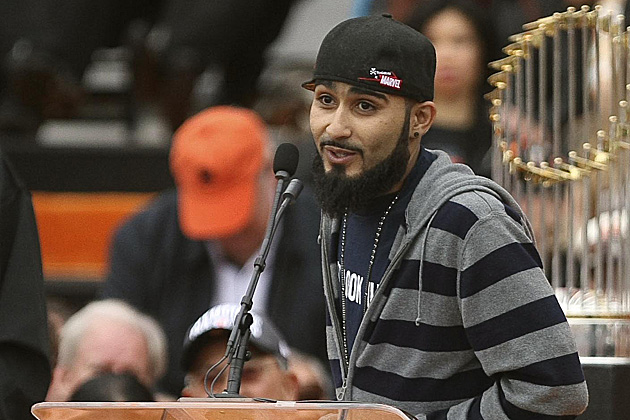 Romo, at the Giants' World Series parade. (US Presswire)
Giants closer Sergio Romo was handcuffed and detained in the Las Vegas airport on New Year's Day, according to TMZ.com. Here's what the website had to say:
Law enforcement sources tell us, the San Francisco Giants pitcher was detained by cops because he couldn't provide the proper ID to clear security.

We're told Romo then got into it with a TSA agent -- becoming "angry and aggressive." Cops then swooped in and cuffed him.

Romo was taken to the police station at the airport , where he was cited for violating airport rules and then released. Romo was not allowed to fly following the incident, and was subsequently escorted off airport grounds.

According to law enforcement sources, Romo appeared to be under the influence.
OK, so let's sort this out. It's important to not overreact. First of all, nothing in there actually says Romo was arrested. It sounds like they got him out of there in cuffs, gave him an airport citation and then let him go -- after telling him to not come back to the airport.
"Under the influence?" Well, it was New Year's Day in Vegas. He certainly wasn't close to being alone.
Unless more details emerge, it sounds like the most that will come of this is an apology from Romo for becoming "angry and aggressive."
UPDATE: And here it is. Romo has released the following statement through the Giants:
"I would like to sincerely apologize about the recent events at the Las Vegas airport which brought negative attention to the San Francisco Giants organization and its fans. I love and respect the Giants, my teammates and our fans and promise to conduct myself in the future in the "San Francisco Giants Way."
For more baseball news, rumors and analysis, follow @EyeOnBaseball on Twitter, subscribe to the RSS feed and "like" us on Facebook.