In-prime players who have a shot at Cooperstown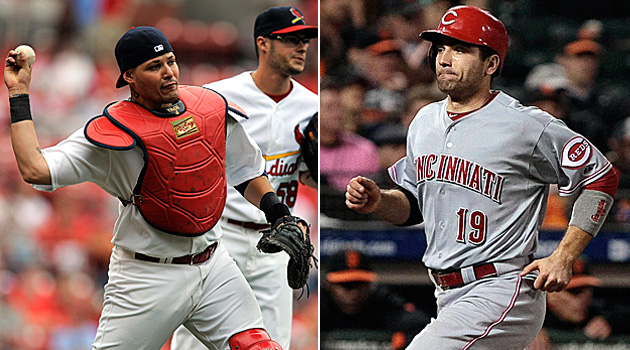 Are Molina and Votto Hall of Famers? Hard to say right now, but they have a shot. (US Presswire)
Monday, we looked at late-prime or post-prime players who are not going to end up quite good enough to make the Hall of Fame. We continue the series on Tuesday with either early-prime players or players right in the middle of their prime with a shot at Cooperstown, though they have some work to do. It's a natural progression, you see.
Please note that throughout this series, you've likely seen some obvious omissions -- such as Alex Rodriguez and Ryan Braun -- and they'll be covered in the asterisk version on Eye on Baseball later Tuesday.
And on Wednesday before the Hall of Fame voting tallies are announced, we'll be tackling youngsters (age 26 and under) whose careers are off to a great start. That's where you'll find the likes of Clayton Kershaw, Buster Posey and Andrew McCutchen.
For now, though, here are some "prime" players who have a shot at putting together a resume worthy of enshrinement in the Baseball Hall of Fame. Also, if you don't see someone here, maybe look at the links to the left.
Baseball Hall of Fame
Eye on Baseball coverage
Matt Cain -- He's 28 and already has two World Series rings in addition to more than 1,500 innings pitched and 1,278 strikeouts. His rate stats (3.27 ERA, 1.17 WHIP, 124 ERA-plus) are good. Can he produce for another eight to 10 years, along the way gathering some hardware like a Cy Young or two? If so, Cooperstown is possible.
Prince Fielder -- The 28-year-old slugger has 260 homers and 764 RBI in seven years and change with a .287/.393/.538 line. Let's say he maintains similar rate stats and doubles his home runs and RBI (would be 520 and 1,528). That's probably enough, no?
Josh Hamilton -- He'll turn 32 this season, so it's gonna be an uphill climb. Still, considering Hamilton's circumstances, is it overly difficult to see him making a run at Cooperstown if he puts together, say, three or four more seasons like he did last year? His .304/.363/.549 (135 OPS-plus) line right now is stellar.
Matt Kemp -- He's 28 and already has 151 homers and 153 stolen bases. His slash line is good at .295/.352/.501, and he already has more than 500 RBI and runs. Still, we'd probably need to see at least three more years at the level of 2011 before Kemp is a serious Cooperstown threat.
Tim Lincecum -- He's coming off an awful regular season, but Lincecum has four top-10 finishes in Cy Young voting -- including two wins -- and two World Series rings. From 2008-11, Lincecum's average season was 16-9 with a 2.81 ERA, 1.17 WHIP and 244 strikeouts in 220 innings. What if he does that again for the next four to six years? It's entirely possible. And if he does, we're looking at a serious threat.
Evan Longoria -- In five seasons, Longoria has hit .276/.361/.516 with 130 homers and 456 RBI. He needs to keep compiling, for sure. But what Longoria has going for him is the chance to be the defining player of the young Rays franchise. The Rays were 47-27 with him last season, 43-45 without him. In all, the franchise was an embarrassment before Longoria arrived but has been one of the most successful franchises since said arrival. That will likely count amongst many voters.
Joe Mauer -- Amazingly, he's still not even 30. He'll turn 30 in April. Mauer has accrued 1,270 hits, 247 doubles, 587 RBI and 626 runs with a .323/.405/.468 line. He already has four top-10 finishes in MVP voting. If he stays at catcher, the chances of Mauer becoming one of the most prolific offensive catchers in baseball history are pretty good. Using baseball-reference.com's similarity scoring -- which measures closest statistical matches -- the top five similar batters to Mauer through age 29? Mickey Cochrane, Travis Jackson, Jason Kendall, Bill Dickey and Derek Jeter. That's three Hall of Famers and one easily headed that way.
Yadier Molina -- There's little question that Molina has been a Hall of Fame-caliber defensive catcher for a while, but now his offense is starting to catch up. He's 30 with four All-Star games, five Gold Gloves and two World Series rings. His .279/.336/.394 line is improving and should eventually be very attractive among all-time great catchers.
Dustin Pedroia -- He's 29 and has racked up 1,025 hits in what amounts to about six full seasons. The line of .303/.369/.461 is impressive, as is the power-speed combo with 245 doubles, 90 homers and 102 steals. Lots of work obviously needs to be done, but it's possible he ends up with a Hall-worthy resume.
Troy Tulowitzki -- The 28-year-old already has three top-eight finishes in MVP voting and appears an immortal with the glove. He's hitting .292/.364/.504, which is more than enough for an outstanding defensive shortstop. But there are two factors to consider. First, can he ever stay healthy enough to accrue enough counting stats? Second, will the Coors Field factor hurt Tulo in the eyes of voters when they consider his offensive stats? It seems to be hurting Larry Walker now.
Joey Votto -- The slugger just turned 29 and helped lead the Reds to their second NL Central title in three years. His career slash line is outstanding at .316/.415/.553. In fact, among players with at least 3,000 plate appearances, Votto ranks 71st in average, 24th in on-base percentage and 26th in slugging percentage in baseball history. His .968 OPS is 15th all-time, and his 155 OPS-plus is 25th in history. So he's on his way. He just needs to keep doing what he's doing, and there's a good shot here.
Jered Weaver -- He's 102-52 with a 3.24 ERA (128 ERA-plus) and 1.14 WHIP in seven seasons. He has three All-Star appearances and three top-five finishes in Cy Young voting. At age 30, he faces an uphill battle, but it's reasonable to see Weaver being an elite pitcher another five years or so. If that happens, he'll be in the discussion for Cooperstown, even if still an "outside looking in" guy.
David Wright -- Wright turned 30 less than a month ago, and he already has 322 doubles, 204 homers, 818 RBI, 790 runs and 166 stolen bases with a career slash line of .301/.381/.506. He has four top-10 finishes in MVP voting, two Gold Gloves and is a six-time All-Star. If we suppose his career is about half over, there's a decent shot that Wright ends up with Hall-caliber numbers. Worth a mention: Wright is already the Mets' career leader in hits, runs, total bases, doubles, RBI, walks, extra-base hits, times on base and WAR. Will being the greatest all-time Met, in the massive market of New York, sway voters? I think it very well might.
For more baseball news, rumors and analysis, follow @EyeOnBaseball on Twitter, subscribe to the RSS feed and "like" us on Facebook.