Murphy, Lofton, Williams headline those falling off Hall of Fame ballot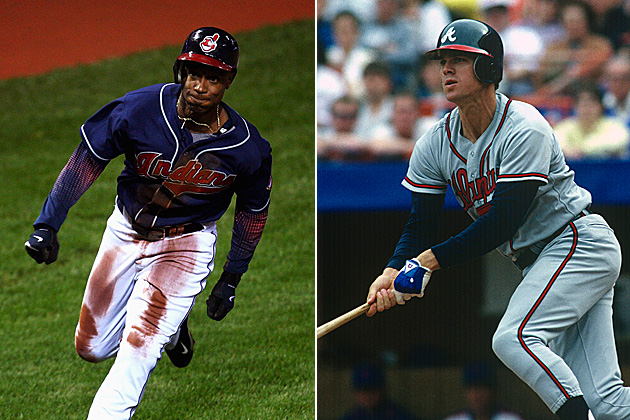 Lofton and Murphy have fallen off the Hall of Fame ballot for different reasons. (Getty Images)
Although much of the discussion concerning the empty BBWAA Hall of Fame for the 2013 Cooperstown class will center around the likes of Roger Clemens, Barry Bonds, Jeff Bagwell, Mike Piazza, Craig Biggio and, yes, Jack Morris, we cannot forget about the group of players who just fell off the ballot.
Given that this was one of the more loaded BBWAA ballots in memory and that there were a whopping 37 players on the ballot, some big names have now fallen off the ballot.
BBWAA Hall of Fame voting results
Related content
Dale Murphy got 18.6 percent of the vote, which marked the third-highest total -- and his highest since 2000 -- for the former Braves superstar, but this was his 15th year on the ballot, which is the maximum. So the two-time NL MVP is now kept out of Cooperstown until a Veterans Committee at some point gives him a look, and that doesn't happen until long down the road.
Murphy is the only man falling off the ballot after his 15-year period, but he's not the only very good-to-great player who falls off the ballot.
Kenny Lofton only garnered 18 votes, which is amazingly low considering his body of work and how few voters appear to have voted for their maximum of 10 players. Not only did he play for 11 different playoff teams (we know many voters like "winners"), but Lofton ranks 15th in career stolen bases, was a six-time All-Star and won four Gold Gloves to go with a .299 batting average and .372 on-base percentage. He also scored 1,528 runs in his career.
Speaking of winners, Bernie Williams won four World Series rings in his 16-year career for the Yankees, hitting .297/.381/.477 with 287 homers, 1,257 RBI, 1,366 runs and 449 doubles. The five-time All-Star won four Gold Gloves. He received 9.6 percent of the vote last season in his first chance, but only garnered 19 votes total this time (3.3 percent), so he's done.
Others off the ballot: Sandy Alomar Jr., Julio Franco, David Wells, Steve Finley, Shawn Green, Aaron Sele, Jeff Cirillo, Royce Clayton, Jeff Conine, Roberto Hernandez, Ryan Klesko, Jose Mesa, Reggie Sanders, Mike Stanton, Todd Walker, Rondell White and Woody Williams.
For more baseball news, rumors and analysis, follow @EyeOnBaseball on Twitter, subscribe to the RSS feed and "like" us on Facebook.