Where does Baseball Hall of Fame go from here?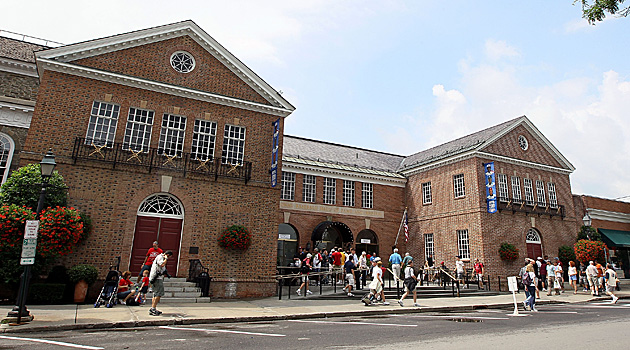 The Hall of Fame won't have much new luster this summer. (Getty Images)
In light of what happened Wednesday, when the Baseball Writers' Association of America elected no one to the Baseball Hall of Fame, it's worth wondering where the Hall of Fame goes from here.
While it's true that the BBWAA has before gone without electing anyone to the Baseball Hall of Fame on a given vote, this time around it just feels different. This was a ballot with up to a dozen worthy candidates in terms of on-field performance, but matters have been complicated by an entire generation of stain.
We've endured a month of arguing -- and frankly I'm pretty tired of it and ready to put this thing to bed for about 11 months -- but I still can't shake the fact that the Baseball Hall of Fame in Cooperstown, N.Y., .is simply a museum of baseball history. I've been saying so for weeks and then Wednesday night ESPN.com's Jayson Stark took it a step further.
After discussing the records and accolades accumulated by Barry Bonds, Roger Clemens, Mike Piazza, Sammy Sosa, Mark McGwire, Rafael Palmeiro and, yes, Pete Rose, Stark pointed out:
Do we really want a Hall of Fame that basically tries to pretend that none of those men ever played baseball? That none of that happened? Or that none of that should have happened?

Hey, here's a bulletin for you: It happened.
And he's right.
Though I'm on Stark's side here -- again, I've mentioned the museum factor several times the past few weeks -- I do understand the want by many to not give the individual players deemed as "cheaters" their own personal celebration.
Matters are further complicated by two more factors concerning the Hall of Fame. First of all, the ballot is about to get incredibly crowded, making it increasingly tougher for individual players -- even those deemed "clean" like Greg Maddux -- to gain enshrinement. Secondly, the Hall of Fame has been routinely losing money over the past decade (no, it's not owned by Major League Baseball, it's independently operated).
And though the Hall of Fame continues to publicly support the process, I just can't help but wonder if that's going to change after a few more years of losing money and lackluster induction ceremonies.
So, again, where to from here? There are options to discuss. Here are four:
1. Status Quo
Many people are fine with the process and embraced the BBWAA shutout Wednesday. Those people also want to keep all "cheaters" out of the Hall of Fame forever. This group of people won't want to see any changes whatsoever, so it's business as usual.
2. Embrace that it's a historical museum
If you walk through a museum of world history, it would be incomplete -- and quite stupid -- to not have exhibits on those who significantly impacted history in a negative way. I'm not gonna name any specific people because that's a good way to have some idiot claim I compared Barry Bonds to (insert infamous historical figure). I'm not comparing. I'm just saying that negative history is still history. If a generation of the best players (the 1990s and early 2000s) did so by "cheating," perhaps there's a way to quarantine the generation in the building and allow people to either go check it out or just avoid the wing altogether. And, yes, Rose obsessors, he could go there, too. I'm sorry, I don't need Bonds left out of the Hall of Fame to recognize the immortal greatness that was Hank Aaron.
3. Lift 10-player maximum imposed on voters
Not every Hall of Fame voter uses all 10 of his or her votes. In fact, most don't. But in looking ahead at some of the ballots, votes are going to be so spread out that election is going to be tougher than it has been in several decades. I believe some very worthy candidates who were much better players than guys already in the Hall of Fame are going to suffer. If voters were allowed to vote for as many players as they want, it would not be a free-for-all, but it would give writers a shot to vote for every player they deemed worthy of a vote.
4. Better monitoring of voting body
Unlike many other bloggers, I respect the BBWAA. I have three colleagues who take voting very seriously and do their due diligence. But guess what? Not all voters are like that. Those who send in blank ballots to show off and make a statement harm the process (if you don't wanna vote, just don't vote instead of sending in a blank ballot and having it count against everyone on the ballot). I hate to pile on, but someone cast a vote for Aaron Sele (those throwaway votes happen every year) and that too harms the process. Also, there are voters who retired decades ago and there are voters who now cover other sports. Let me ask you this: Could an NFL writer pay enough attention to his Baseball Hall of Fame vote in December -- which I hear is a busy month for NFL writers -- to make the best choices? Seems hard to believe.
I'm not suggesting the entire BBWAA be reworked. I'm just saying that some fat could easily be trimmed and the voting body would be better for it. In fact, I'd hope the BBWAA would want to do this, because a few bad apples give the group as a whole a bad name.
In all, I'm definitely not saying I have all the answers. I don't. No individual does. But what we're looking at right now is a disaster of a Hall of Fame and it's only going to get more contentious in the upcoming years. Meanwhile, baseball's museum of history is bleeding money and has no new living inductees this summer.
Now, let us never speak of this again. Or I guess until next winter. Sigh.
For more baseball news, rumors and analysis, follow @EyeOnBaseball on Twitter, subscribe to the RSS feed and "like" us on Facebook.