Uptons could be memorable among position-playing brother teammates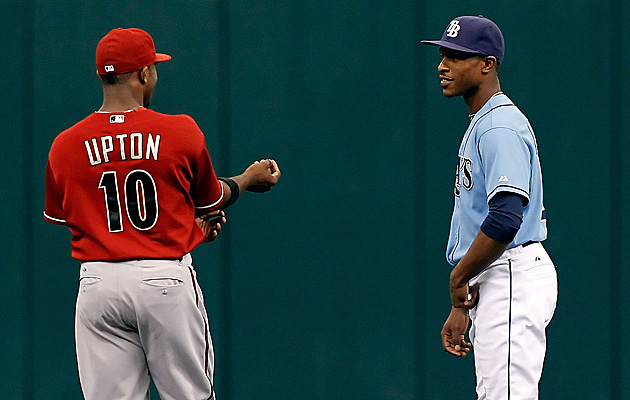 Justin and B.J. Upton will be wearing the same colors now. (Getty Images)
In light of the blockbuster trade Thursday that sent Justin Upton to Atlanta , most of the talk has been of the two Upton brothers now being teammates. As my colleague Danny Knobler wrote, Justin and B.J. Upton could be great. It's a matter of channeling potential and getting the most out of it. If they do, though, will they be the greatest position-playing brothers-as-teammates combo ever?
Well, they could be. There's potential. Yes, those conditional words again. The Uptons have the talent, but to topple the Waner brothers is a very tall order.
Known as "Big Poison" (Paul) and "Little Poison" (Lloyd), Paul and Lloyd Waner played together for the Pirates from 1927-40 and are the obvious gold standard among brother tandems on the same team. Both are Hall of Famers, even if Lloyd's induction was a bit dubious.
From 1927-1940, Lloyd hit .319/.356/.400 with 269 doubles, 114 triples, 27 homers, 573 RBI and 1,142 runs. He collected 2,306 hits at the time, but sports just a 100 OPS-plus.
In that same span, Paul hit .341/.406/.487 with 523 doubles, 165 triples, 101 homers, 1,098 RBI, 1,392 runs. He collected 2,688 hits in those years and was one of the better players in baseball, sporting a 136 OPS-plus.
I obviously can't see a scenario where both Upton's make the Hall of Fame. Justin actually has enough of a foundation to become a Hall of Fame caliber player, but he'll need to improve. Just keep in mind he's only 25.
If we hone in on OPS-plus, is it feasible for B.J. Upton to be a league-average hitter for the next 14 seasons while Justin is 36 percent better for the next 14? I'd say no, but only because of the length. If they are teammates for the next, let's say, eight years, it's entirely reasonable. But then we're back to the "they could" and "they have the potential" range. At some point those don't mean anything and production needs to be seen. We'll start seeing what they can do together this season.
If I could get a bit bold, I will say the Upton brothers go down as the second-most prolific brotherly duo among position players on the same team in baseball history. Not that it takes much. Most of the other brother combos on a team (again, among position players, which excludes pitchers) only were together for a very short period of time. Some had one Hall of Fame brother (Hank Aaron and Cal Ripken, to name two), but then the other brother left a lot to be desired. The Waners were different in longevity and performance.
Some notable brotherly position-player teammates, including only those who played together for more than one season:
Hank and Tommie Aaron, Braves
Cal and Billy Ripken, Orioles
Sandy and Roberto Alomar, Indians
Vladimir and Wilton Guerrero, Expos
Joe and Luke Sewell, Indians
Several combinations with Felipe, Jesus and Matty Alou, Giants/Yankees
Dick and Hank Allen, White Sox
Aaron and Bret Boone, Reds
Mack and Zack Wheat, Dodgers
Bengie and Jose Molina, Angels
Jason and Jeremy Giambi, A's
Billy and Tony Conigliaro, Red Sox
Eddie and Johnny O'Brien, Pirates
Dave and Steve Sax, Dodgers
For more baseball news, rumors and analysis, follow @EyeOnBaseball on Twitter, subscribe to the RSS feed and "like" us on Facebook. Also, individually interact with us on Twitter: @MattSnyder27, @daynperry and @mikeaxisa.