Baseball America ranks Cardinals as best minor-league system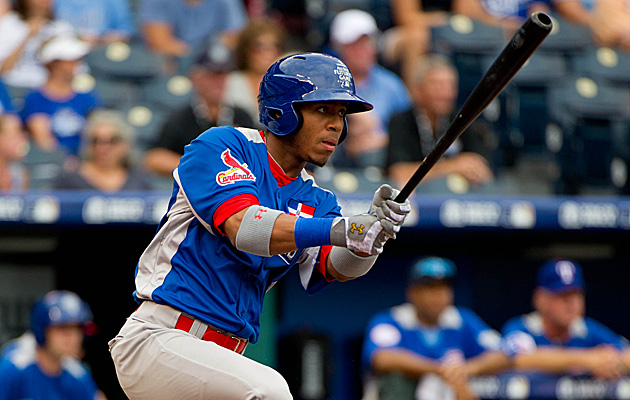 Oscar Taveras is the crown jewel of the strong Cardinals' farm system. (Getty Images)
The Baseball America prospect handbook hasn't yet hit the shelves. But when it does, the St. Louis Cardinals will be ranked as the top minor-league system in baseball, reports Derrick Goold of the St. Louis Post-Dispatch.
Goold notes the Cardinals were ranked dead last in 2005, so it has been a massive turnaround by the front office.
At this point, I'd like to extend a silver lining to Astros fans. After all, they've had it rough the past few years in terms of on-field performance and the move to the American League. So, here you go, Houston: Current Astros GM Jeff Luhnow is largely responsible for this ranking. He was in the Cardinals' scouting department from 2003-11. He was named vice president of player procurement in 2005 and then promoted to vice president of scouting and player development in 2006, where he served until the Astros hired him away.
Anyway, back to the Cardinals. Last season, some of the top prospects were seen at the big-league level.
Shelby Miller, a 22-year-old pitcher, made six appearances. He profiles down the road as a front-line starter. Trevor Rosenthal was great out of the bullpen and 24-year-old first baseman Matt Adams showed flashes of what he can do. All three of these guys are ranked in Baseball America's top-10 prospects for the organization.
No. 1, however, is Oscar Taveras. The 20-year-old left-handed center fielder hit .321/.380/.572 with 23 homers, 94 RBI, 83 runs, 37 doubles, seven triples and 10 stolen bases for Double-A Springfield last season.
And, obviously with the top ranking, there are many more promising players in the system, like 21-year-old pitcher Carlos Martinez and 2011 first-round pick second baseman Kolten Wong.
So while the Cardinals won the World Series in 2011 and look pretty tough in 2013, their future is bright as well, at least according to Baseball America.
For more baseball news, rumors and analysis, follow @EyeOnBaseball on Twitter, subscribe to the RSS feed and "like" us on Facebook. Also, individually interact with us on Twitter: @MattSnyder27, @daynperry and @mikeaxisa.