Report: Feds investigating A-Rod adviser for PED link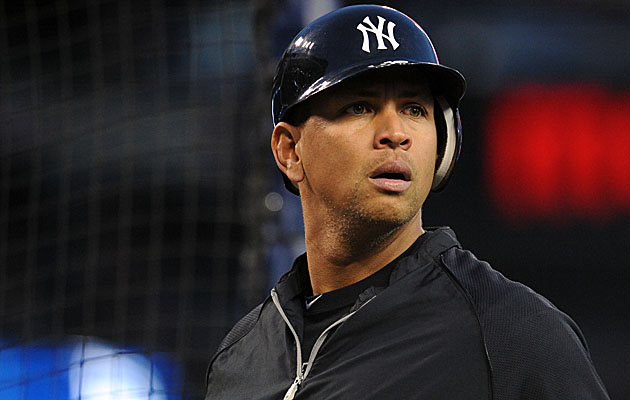 More controversy with A-Rod's name attached has surfaced. (US Presswire)
Just one day after we heard Yankees third baseman Alex Rodriguez might miss all of the 2013 season, there's now more A-Rod news to pass along. And this time, it's a lot more juicy.
According to New York's Daily News, a man named Anthony Bosch is being probed by both Major League Baseball and the Drug Enforcement Administration (DEA) for possible links to performance-enhancing drugs.
So what does this have to do with A-Rod? Per the Daily News:
Bosch, a well-known figure among current and former Latin ballplayers in South Florida, has advised the embattled Yankee superstar on nutrition, dietary supplements and training, a source familiar with Miami-area anti-aging centers told The News.

The source said Rodriguez and Bosch consulted with at least one other expert about blood test results. Bosch, records show, has been affiliated with a number of Miami-area medical companies and clinics.
The Daily News notes Major League Baseball is actively pursuing possible rings of suppliers of PEDs (including human growth hormone) that are looking to find ways to avoid positive tests under the new MLB testing program. Remember, MLB recently announced it would be the first sports league in America to use random, unannounced, in-season testing for HGH.
And this is where the blood-test-results factor comes in. Blood tests are how you catch users of HGH.
A-Rod has admitted to using steroids from 2001-03, while with the Rangers, but has said he has been clean since joining the Yankees. And though many will jump to conclusions with this report, it needs to be said that even if Bosch winds up in trouble with MLB and/or the DEA, that doesn't necessarily mean A-Rod has been using any PEDs while associating with Bosch.
It obviously doesn't look good, but it's not definitive evidence. Let's wait until all the facts surface before going reckless with accusations.
For more baseball news, rumors and analysis, follow @EyeOnBaseball on Twitter, subscribe to the RSS feed and "like" us on Facebook. Also, individually interact with us on Twitter: @MattSnyder27, @daynperry and @mikeaxisa.