Matt Holliday wants two strikes and out for PED users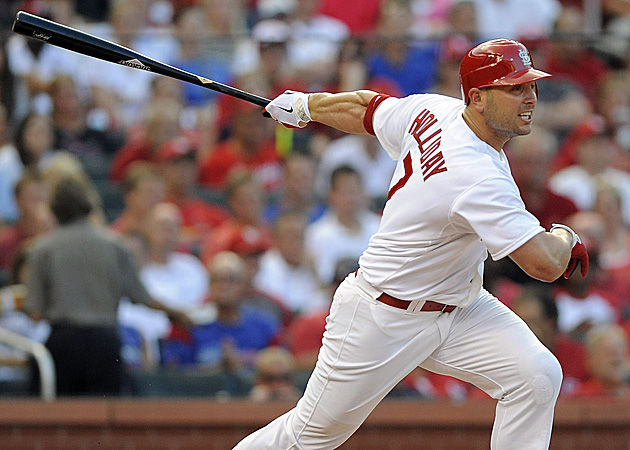 Holliday wants harsher punishments for players caught using PEDs. (US Presswire)
Thanks to a juicy report in the Miami New Times Tuesday morning, it's been PED week in any discussion relating to baseball. Many are weighing in on matters, especially relating to current punishments. Cardinals left fielder Matt Holliday, for one, wants to see stiffer punishments for players violating the league's drug policy.
Holliday said the following on MLB Network radio Wednesday (via St. Louis Post-Dispatch):
"I'd go first time (you get caught) you miss a full season, 162 games you're out. And then the second time I think you are suspended for a lifetime with the eligibility after two years maybe to apply for reinstatement. That's what I would do. I feel like that's pretty harsh but I think that's what we need. I think we need harsher penalties. I think that would be a good start.

"... I thought (a 50-game suspension) was pretty harsh. I thought that might be enough with 50 and then, I think it was, 100. But it clearly is not enough. There are guys getting caught and there's a paper trail and all this stuff going on now. It's clearly not enough to deter guys from trying to find ways around it, trying to find ways to beat the system or whatever they're doing. So I'm all for making it harder."
I'm with Holliday here. Fifty games is a lot, but say you're Alex Rodriguez and you've already made over $325 million in your career. Losing out on roughly $9 million -- he's set to make $28 million next year and 50 games is just under a third of the season -- doesn't really make that big a difference.
But the threat of losing an entire season and then possibly facing the end of a career after that? That would wake guys up a lot quicker than with the already-strict current system of punishment.
For more baseball news, rumors and analysis, follow @EyeOnBaseball on Twitter, subscribe to the RSS feed and "like" us on Facebook. Also, individually interact with us on Twitter: @MattSnyder27, @daynperry and @mikeaxisa.