Marlins not close to signing Jose Valverde (updated)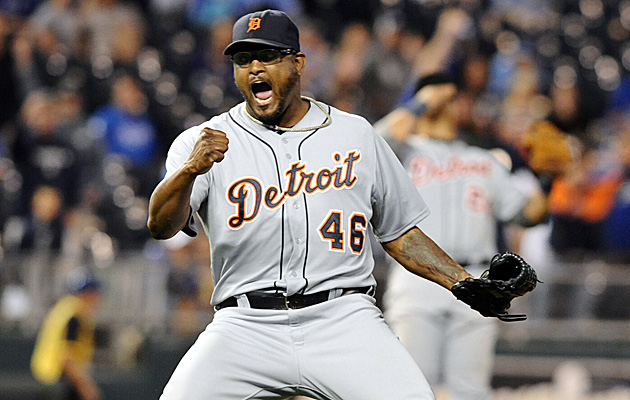 Free agent Jose Valverde still looking for a home. (US Presswire)
The Miami Marlins and free agent reliever Jose Valverde were close to agreeing on a one-year deal, according to an ESPN Deportes report. That report, however, has been shot down by the Marlins, who are saying they are not close to a deal and ESPN Deportes has now backed off the report.
Valverde, 34, had 35 saves in 40 chances last season for the Tigers with a 3.78 ERA, 1.25 WHIP and 48 strikeouts in 69 innings. He was an absolute disaster in the playoffs, coughing up 11 hits and nine earned runs in just 2 2/3 innings, losing his job in the process.
Valverde was 49 for 49 in save chances in 2011, but he's clearly trending downward in massive decline. His strikeout rate (strikeouts per nine innings) in the past five years: 10.4, 9.3, 9.0, 8.6, 6.3. Meanwhile, here's his hit rate (hits allowed per nine innings) in the past three seasons: 5.9, 6.5, 7.7.
It's not difficult to see where this decline is coming from, either. In 2008, Valverde's fastball averaged 96.38 miles per hour. His average heater in 2012 dipped down to 93.99 miles per hour and was 93.37 miles per hour in October. His splitter isn't nearly as effective when his fastball velocity is dipping down into the low-90s and hitters were teeing off on him late in the season. Considering age, this isn't likely a trend that will reverse itself.
If the Marlins did bring in Valverde to be a closer just because he's a "proven closer," it would be a big mistake. They have a 26-year-old with good promise in Steve Cishek. He closed 15 saves in 19 chances last season with a 2.69 ERA, 1.30 WHIP and 68 strikeouts in 63 2/3 innings. He's young and trending upward while Valverde is, again, in a severe decline.
So for now it appears the Marlins are doing the correct thing in not inking Valverde.
For more baseball news, rumors and analysis, follow @EyeOnBaseball on Twitter, subscribe to the RSS feed and "like" us on Facebook. Also, individually interact with us on Twitter: @MattSnyder27, @daynperry and @mikeaxisa.