Report: A-Rod believes there's a conspiracy against him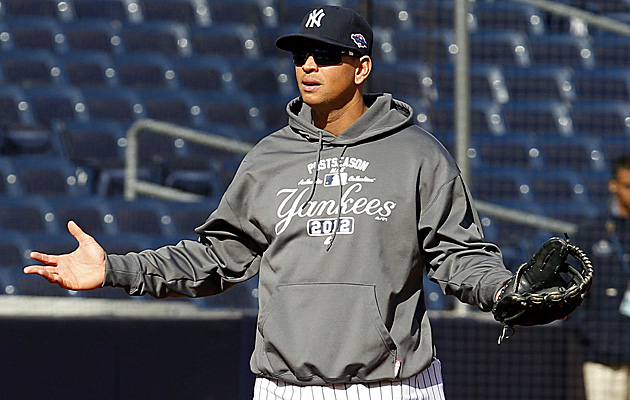 C'mon, guys, why are you conspiring against me? (US Presswire)
It's time for another episode in the soap opera that is Alex Rodriguez, his balky hip, his alleged ties (again) to performance-enhancing drugs and the New York media's obsession with A-Rod.
In this episode, the New York Daily News has a source who says A-Rod is terrified there's a conspiracy to end his playing days.
Seriously, here's the Daily News report:
Sources say the embattled Yankee star is "scared" that bigger forces are at work to try to discredit him and sink his career. Holed up in Miami, Rodriguez has been huddling with an army of lawyers and PR people as the performance-enhancing drug scandal enveloping him intensifies.

"He's scared, because he thinks this is so unbelievably false, and he's wondering who could be behind this," said a source, referring to last week's Miami New Times report linking A-Rod to an alleged Miami-area performance-enhancing drug scandal. "He thinks something could be going on larger than anyone might think."

The source added that Rodriguez is wondering if the Yankees or even Major League Baseball are behind the latest controversy.
Meanwhile, as far as we know, Major League Baseball continues to conduct its investigation in South Florida for matters surrounding the big Miami New Times article that came out last week, alleging several players had ties to a biochemist who had ties to PEDs.
As for the A-Rod story in the Daily News, I don't know what to believe. Maybe A-Rod really is scared and believes everyone is out to get him. Maybe the source exaggerated based upon A-Rod getting lawyers involved. Whatever it is, this is A-Rod, so we're sure to hear lots more on the matter in the coming weeks -- some "news" more off-the-wall than the next.
On the bright side: Pitchers and catchers report in less than a week.
For more baseball news, rumors and analysis, follow @EyeOnBaseball on Twitter, subscribe to the RSS feed and "like" us on Facebook. Also, individually interact with us on Twitter: @MattSnyder27, @daynperry and @mikeaxisa.