Chris Carpenter likely out for 2013 season, retirement possible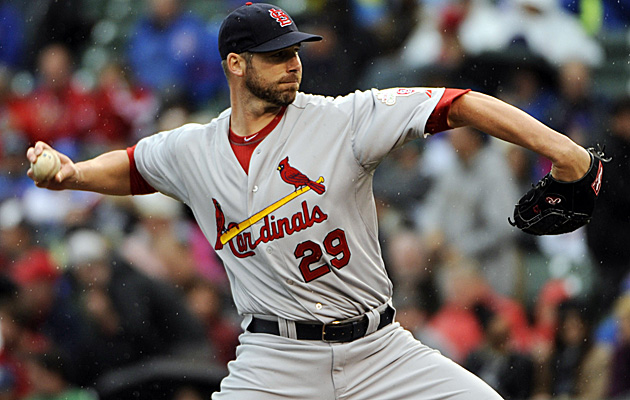 Chris Carpenter will not pitch in 2013 and might have to retire because of shoulder, neck and arm issues. (US Presswire)
Chris Carpenter is unlikely to pitch during the 2013 season, the Cardinals announced at a Tuesday afternoon news conference. General manager John Mozeliak made the announcement, citing continued issues with the health of Carpenter's right shoulder, neck and arm.
More on Carpenter
Columns

---

Related links
Retirement was not mentioned specifically, but it's obviously on the table because Mozeliak mentioned that Carpenter was worried about having a "normal after-career." Judging from the demeanor of Mozeliak, manager Mike Matheny and the words they used during the press conference, it was pretty clear both may believe Carpenter has thrown his last pitch in the majors.
"We're comfortable with what we have," Mozeliak said when asked if the Cardinals would revisit signing free agent Kyle Lohse.
Without Carpenter, the Cardinals have Adam Wainwright and Jake Westbrook definitely in the rotation. Jaime Garcia is recovering from a shoulder injury, Lance Lynn could be a starter or used in the bullpen, and youngsters Shelby Miller, Joe Kelly and Trevor Rosenthal could also figure in the mix.
Carpenter, 37, has had a great career, though serious injuries have continually prevented him from reaching even bigger heights. Through his career, he suffered a torn shoulder labrum, a torn ulnar-collateral ligament (which needs Tommy John surgery to repair), and thoracic outlet syndrome (which stemmed from nerve issues in his shoulder and neck area). All of those issues caused Carpenter to essentially miss entire seasons, as he made only seven starts in 2003, 2007, 2008 and 2012 combined. He also was only able to make 13 starts in 2002.
Carpenter is now 144-94 with a 3.76 ERA, 1.28 WHIP, 1,697 strikeouts, 33 complete games, 15 shutouts and a 116 ERA-plus in 2,219 1/3 innings. In the postseason, he has gone 10-4 with a 3.00 ERA, winning two World Series rings.
In terms of individual hardware, Carpenter won the 2005 NL Cy Young, the 2009 NL Comeback Player of the Year and has made three All-Star games. He finished second in Cy Young voting in 2009 and third in 2006.
Carpenter was the Blue Jays' first-round pick (15th overall) in 1993 out of Trinity High School in Manchester, N.H. He made his debut with the Blue Jays in 1997 and stayed with them through the 2002 season -- after which the Blue Jays removed him from the 40-man roster. Carpenter then elected free agency and signed with St. Louis.
In 10 years for St. Louis -- four mostly-lost seasons and six mostly-full ones -- Carpenter has gone 95-44 with a 3.07 ERA (133 ERA+), 1.13 WHIP and 1,085 strikeouts in 1,348 2/3 innings.
Carpenter is due $12.5 million this season. If he retires, he wouldn't get the money.
For more baseball news, rumors and analysis, follow @EyeOnBaseball on Twitter, subscribe to the RSS feed and "like" us on Facebook. Also, individually interact with us on Twitter: @MattSnyder27, @daynperry and @mikeaxisa.