Ryan Braun's attorney: Bosch's value was 'negligible'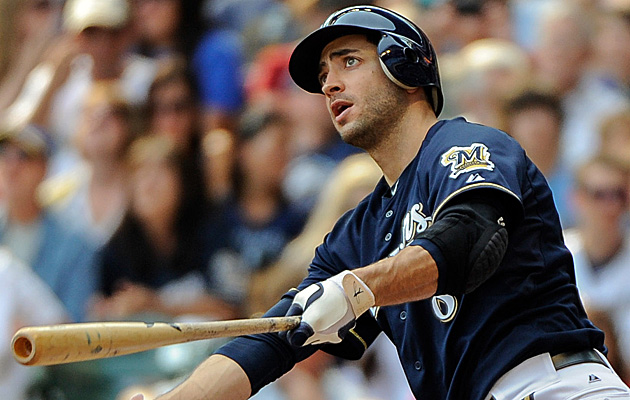 Braun's in the PED crosshairs again. (US Presswire)
Tuesday night brought us the revelation that Ryan Braun's name was found in the records of South Florida biochemist Anthony Bosch, who is being investigated by Major League Baseball for possibly distributing PEDs to players.
Braun was quick to release a statement of what appeared to be a pretty plausible explanation. Wednesday, his attorney followed suit, and it doesn't look nearly as good for Braun.
More on PEDs
Column

Related links
Here is the statement from David Cornwell, who was the lead attorney for Braun's defense team in his appeal on a failed drug test last offseason, via the Milwaukee Journal-Sentinel:
"In the 15 years that I have represented players facing discipline under the various professional sports leagues' substance abuse and steroid programs, I have relied primarily, if not exclusively, on Dr. David L. Black and his team of scientists at Aegis Sciences Corporation in Nashville, TN as my experts with respect to scientific and other matters relevant to the testing of player specimens.

"I was not familiar with Tony Bosch prior to Ryan Braun's case. Bosch was introduced to me at the earliest stage of Ryan's case.

"I found Bosch's value to be negligible and I followed my prior practice of relying on Aegis in the preparation of Ryan's winning defense."
The Yahoo report from Tuesday night noted that it appears Braun owed Bosch at least $20,000, according to documents the outlet obtained (it said "RB $20-30K"), and in Braun's statement he said there was a dispute over the fees charged, which is why his name was listed as owing money to Bosch.
Could the dispute be that since Bosch provided "negligible" help to Braun's defense team that Braun didn't feel such a high fee was due? If you believe Braun is clean and innocent, the answer has to be yes.
If you don't believe Braun is clean and innocent, the statement can seem pretty damning.
For more baseball news, rumors and analysis, follow @EyeOnBaseball on Twitter, subscribe to the RSS feed and "like" us on Facebook. Also, individually interact with us on Twitter: @MattSnyder27, @daynperry and @mikeaxisa.