Core Values: Colorado Rockies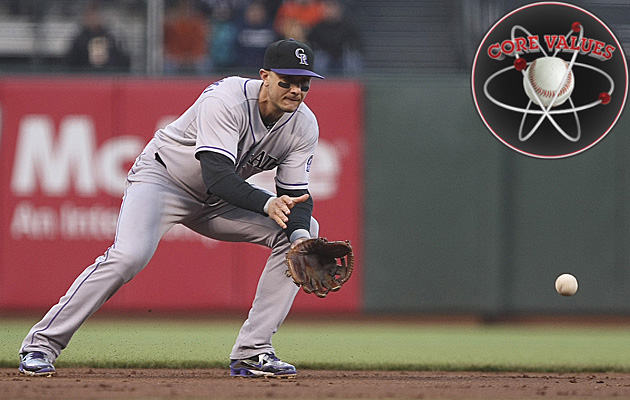 The Rockies are pretty clearly built around Tulowitzki. (US Presswire)
Here we are. It's the last weekend until spring training is underway. The long wait is almost over. Still, we have a few lingering days until all 30 teams will have reported to camp. Not coincidentally -- you see, every once in a while we bloggers plan things out -- there are three teams left in our Core Values series: The Rockies, Athletics and Rangers.
Saturday, it's the Rockies' turn. They finished last in the NL West with a 64-98 record in 2012, getting only 47 games out of franchise player Troy Tulowitzki and sporting only one pitcher with at least 100 innings pitched due to a poor starting rotation, having Jorge De La Rosa coming off Tommy John surgery and deciding to "piggyback" starters.
Anyway, let's dive in.
Core Values series
Previous posts
For those who haven't been with us for the entirety of the series, check out one of the previous posts in the insert box at left to see what we're doing. As for the rest of us, let's dive in.
Cornerstone players: Carlos Gonzalez and Troy Tulowitzki
Gonzalez, 27, is in the midst of a seven-year, $80 million contract that has him staying put in a Rockies uniform through the 2017 season. He led the NL in hits, average and total bases in 2010 and was an All-Star last season. He's a fine centerpiece, though he's far from alone.
Tulowitzki is 28 and hasn't even started his megadeal yet. He was signed to a seven-year, $45 million deal before the 2008 season, which will end up being peanuts compared what follows. When that contract runs out, Tulowitzki will start a six-year, $118 million deal with a $15 million club option for yet another year. All told, it's possible Tulo is under contract through 2021. In fact, along with the likes of Ryan Braun, Evan Longoria and Joey Votto, Tulowitzki is one of the reasons we decided to run this series.
Aside from Tulowitzki and Gonzalez, the Rockies have no payroll obligations (excluding players in pre-arbitration and arbitration years, of course) past 2014.
Face of the franchise: Tulowitzki

I strongly considered Todd Helton here, but I think the torch has been officially passed to Tulowitzki. I could be wrong, but what we're essentially trying to nail down here is whom casual fans first think about when asked about a certain team. I feel like most casual fans would think about Tulowitzki and then Gonzalez when thinking about the Rockies, but there might still be some Helton sprinkled in the thought process.
On the whole, though, the Rockies are Tulowitzki's team. He has already finished in the top eight of MVP voting three times, has two Gold Gloves and sports the kind of power-speed-defense combo that drives fans wild. And, again, he's gonna be in Denver for a long time.
Faces of the future: Tulowitzki, David Dahl and Nolan Arenado

As stated earlier, Tulowitzki is going to be the franchise icon for a long time. But the Rockies have a few other promising faces for the future.
Dahl was the Rockies' first-round pick (10th overall) last year and hit .379/.423/.625 with 22 doubles, 10 triples, nine homers, 57 RBI and 12 stolen bases in 67 games at Rookie Ball. He's only 18, so it'll be a few years, but there's big upside in the young outfielder.
Arenado, a 21-year-old third baseman, is closer to making an impact. He hit .285/.337/.428 in Double-A last season and could even break camp with the Rockies this year, though his numbers did see a dip last season, meaning he might need more time.
Grading the Rockies' core: C-

Tulo and Cargo are obviously an excellent starting point, and there's young talent in the pipeline but not an abundance of it. The veteran supporting cast of Helton, Michael Cuddyer, De La Rosa, Rafael Betancourt et al isn't overly exciting, either.
A lot of how the Rockies look moving forward will depend upon the development and/or improvement of the likes of Wilin Rosario, Jordan Pacheco, Josh Rutledge, Dexter Fowler, Drew Pomeranz, Jhoulys Chacin along with prospects like Dahl, Arenado, Trevor Story, Kyle Parker and Tyler Matzek.
Overall, though, the Rockies appear to have a pretty mediocre core. Things could come together for a playoff run in the next five years, sure, but the downside of finishing in last place several more times is also present, especially if they can't find a better way to get productive starting pitching.
For more baseball news, rumors and analysis, follow @EyeOnBaseball on Twitter, subscribe to the RSS feed and "like" us on Facebook. Also, individually interact with us on Twitter: @MattSnyder27, @daynperry and @mikeaxisa.