Red Sox prospect Bryce Brentz accidentally shot himself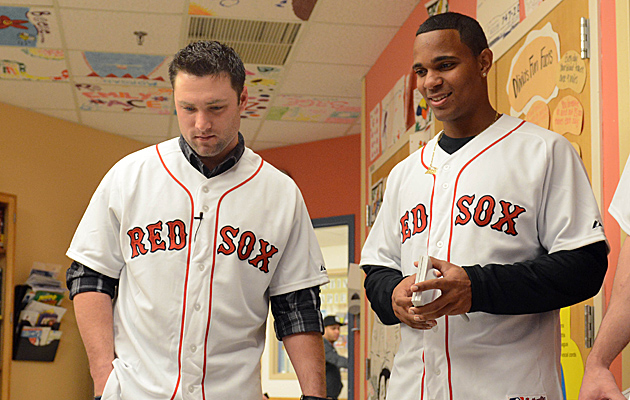 Brentz, left, along with Xander Bogaerts, visiting a children's hospital last month. (Getty Images)
Bryce Brentz might have gotten a non-roster invitation to big-league camp with the Red Sox this spring. Instead, he's on the shelf for a few weeks after accidentally shooting himself in the leg.
Via MLB.com:
"He had an accident," [general manager Ben] Cherington said. "He was at home [in Tennessee] cleaning a gun, and it accidentally went off. He was injured in the process. Fortunately for him, it's something he's going to recover from and be fine -- and [it] won't affect his baseball career. He wasn't 100 percent physically able, or wouldn't be at the beginning of camp. We ended up not bringing him to big league camp because he wouldn't be able to participate 100 percent."

Brentz was fortunate not to be seriously injured.

"The bullet went into his leg and out the other side," Cherington said. "I guess you could say he got lucky, relative to what happened. I think he understands he got lucky, and it's a serious thing and he has to be careful. He's here in Fort Myers and he's recovering -- and it's not going to get in the way of his future. But he won't be in big league camp."
So he was cleaning it. That's much better than, I don't know, tucking it into the waistband of sweatpants and having it go off in a crowded nightclub. Not that anyone would actually do that, right (cough, cough)?
Anyway, Cherington told MLB.com that he won't rule out Brentz returning to action late in the spring, so this seems to be a temporary setback for the young outfielder.
Brentz, 24, hit .296/.355/.478 with 17 homers, 76 RBI and 30 doubles in Double-A Portland before being promoted to Triple-A Pawtucket, where he only accrued 18 plate appearances. He was the Red Sox's supplemental first-round pick (36th overall) in the 2010 MLB draft out of Middle Tennessee State.
For more baseball news, rumors and analysis, follow @EyeOnBaseball on Twitter, subscribe to the RSS feed and "like" us on Facebook. Also, individually interact with us on Twitter: @MattSnyder27, @daynperry and @mikeaxisa.