2013 Team Preview: Miami Marlins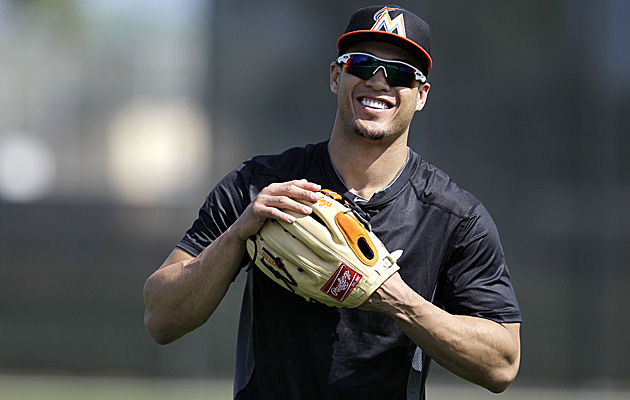 At least the Marlins still have the strapping, slugging Stanton. (AP)
Spring training coverage | Marlins: Camp report | Likes, dislikes | Prospect watch
The Marlins enter the spring in a totally contrasting situation to where they were last spring. Gone is almost the entire payroll after a franchise-altering trade with the Blue Jays -- that sent Jose Reyes, Josh Johnson, Emilio Bonifacio and Mark Buehrle to Toronto.
"Ace" of the rotation (in name only, because he's not an ace) Ricky Nolasco is likely next to go, but young stud Giancarlo Stanton remains. Outspoken Ozzie Guillen has been removed as manager and replaced by quietly confident Mike Redmond.
The Marlins will be looking to be as surprising in 2013 as they were disappointing in 2012.
Probable lineup
1. Juan Pierre, LF
2. Placido Polanco, 3B
3. Giancarlo Stanton, RF
4. Logan Morrison, 1B
5. Justin Ruggiano, CF
6. Donovan Solano, 2B
7. Rob Brantly/Jeff Mathis, C
8. Adeiny Hechavarria, SS
Probable rotation
1. Ricky Nolasco
2. Henderson Alvarez
3. Wade LeBlanc
4. Jacob Turner
5. Nathan Eovaldi
Bullpen construction
Closer: Steven Cishek
Setup: Jon Rauch, Ryan Webb
Notable bench players
OF Gorkys Hernandez, IF/OF Chone Figgins, 1B Casey Kotchman, IF/OF Greg Dobbs
Under-the-radar offseason transaction
It was buried in our memories after the blockbuster trade with Toronto, but getting most of Heath Bell's salary off the books was necessary. He was a bad signing to begin with because of two reasons: 1. There's no reason to pay a 34-year-old closer $9 million a year unless his name is Mariano Rivera; 2. His peripherals showed he was already in decline in 2011. And then in 2012, he was horrible, blowing eight saves and sporting a 5.37 ERA. He had a negative WAR, which means simply removing him from the team made it better. Not only did the Marlins get something back, but they got the Diamondbacks to pick up $12 million of the $20 million left on Bell's deal.
Fantasy Sleeper: Jacob Turner
"It's true Turner went 1-4 in seven starts with the Marlins last season, but a closer look at his numbers show he had a 3.38 ERA, 0.98 WHIP and yielded 7.0 hits and 1.9 walks per nine innings in those seven starts. His numbers did exactly what you would expect from a pitcher who leaves the DH behind in the American League for the pitcher-hitting National League. Turner is not a great strikeout pitcher and wins could be at a premium in 2013, but don't forget he was a top pitching prospect for Detroit, so the talent is there. He is another Marlins player who could be a great value buy in the late rounds on Draft Day." - Michael Hurcomb [Full Marlins fantasy preview]
Biggest strength
In Stanton, the Marlins have a legitimate franchise centerpiece. He's only 23 and has already amassed 93 homers and 232 RBI in just 1,498 career plate appearances. He led the majors with an absurd .608 slugging percentage last season and appears poised to hit at least 40 homers a season over the course of the next decade-plus. Not only that, Stanton isn't even eligible for arbitration until next offseason and won't hit free agency until 2017. So Marlins fans don't have to sit around and worry that he'll be traded.
Biggest weakness
The depth of current talent at the big-league level is just not attractive at all. The majority of the major-league roster is comprised of players past their prime (Pierre, Figgins, Polanco) or not yet close to their prime (Brantly, Hechavarria, Turner, Eovaldi). And if those guys fail to produce, the Marlins will have to turn to guys from the minors. Even if using highly-touted prospects, the Marlins are mostly counting on a bunch of guys to either overachieve or become productive major leaguers much earlier than expected. Basically, this roster isn't built to win in 2013, which at this point is by design.
Best-case scenario
Jeffrey Loria sells the team. There are still some out there defending the gutting of the Marlins' roster this past offseason as a good "business" or "baseball" move, but there's much more at play here. After years of telling fans the Marlins could compete with larger market clubs in terms of payroll if only they had a new stadium, Loria secured what will end up being billions of dollars in taxpayer funding and got the stadium. Then he spent. And then after one season, he gutted the roster to save himself some money. Simply saying "we finished last" -- Loria's lone statement of defense -- is far too simplistic. There were factors at play such as Stanton's broken wrist, Bell being a disaster and Johnson being only one season removed from major injury. Also, that statement by Loria is intellectually dishonest. The Marlins began selling on July 23, when they traded Anibal Sanchez and Omar Infante to the Tigers. At the time, the Marlins were seven games out of the second wild card (and not in last). Is that out of contention? I don't know, ask the A's, who were six back of the Rangers at the time. There was a way to reload without dealing Reyes, Buehrle and Johnson. Loria would just rather save money than give the fans a winner.
The bottom line is Loria is awful for baseball, especially in Miami, where he's also bad for the economy. He's also part of the reason baseball in Montreal was ruined.
Worst-case scneario
Loria doesn't sell. And he won't.
Most-likely scenario
We'll get a glimpse into the future on several fronts and while some youngsters impress, some will disappoint. Stanton continues to cement himself as a budding superstar and Cishek proves everything Heath Bell wasn't.
Still, the Marlins are lacking in many departments and their spot-filler veterans are washed up. Nolasco will be traded for one midlevel prospect. New manager Redmond makes far fewer headlines than Guillen did, as his team -- outside Stanton -- stays quietly irrelevant. The new ballpark stays mostly empty for most of the season as the Marlins return to the bottom five in attendance.
And the Marlins finish in last place in the NL East.
For more baseball news, rumors and analysis, follow @EyeOnBaseball on Twitter, subscribe to the RSS feed and "like" us on Facebook. Also, individually interact with us on Twitter: @MattSnyder27, @daynperry and @mikeaxisa.