Michael Phelps takes batting practice with Orioles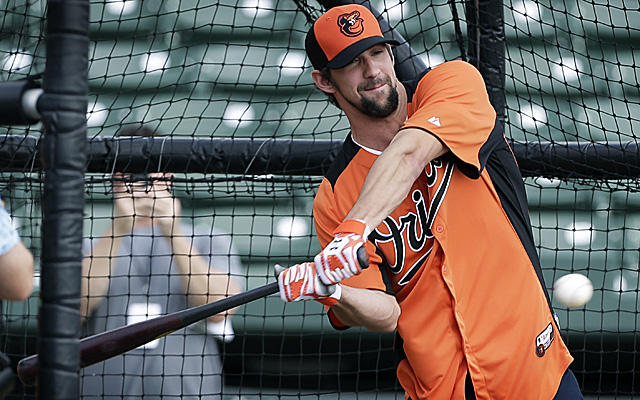 Phelps takes batting practice with the Orioles. (AP)
Olympic swimming champion and Baltimore Orioles fan Michael Phelps took five rounds of batting practice with the Orioles on Thursday. He wore jersey No. 18, in honor of the 18 gold medals that he won in his Olympic career.
Though Phelps didn't hit any homers, it sounds like he didn't embarrass himself, either. Via School of Roch blog:
Phelps didn't hit any home runs off BP pitcher Bobby Dickerson, the Orioles' new third base coach, but he launched a few balls deep into the outfield. He claimed earlier that he played the sport until age 12, and he hadn't swung a bat "in a long time."

"It was my first time taking BP, so it was a real cool experience, being able to do that with these guys, and especially after a remarkable season, and hopefully they have a good one coming up," said Phelps, who lives in Canton.

"Everyone was sitting here saying what I should be doing, so I just tried to listen to all of them a little bit. I wanted to hit one out, but we caught a couple that were close.
Phelps' hitting session was filmed for a show on the Golf Channel -- no idea how a swimmer hitting a baseball fits on the Golf Channel. But hey, whatever works. And he told reporters that he plans to attend the Orioles' first home game this season.
Phelps was born and raised in Towson, Md., which is just north of Baltimore.
For more baseball news, rumors and analysis, follow @EyeOnBaseball on Twitter, subscribe to the RSS feed and "like" us on Facebook. Also, individually interact with us on Twitter: @MattSnyder27, @daynperry and @mikeaxisa.