Bobby V: Connie Mack couldn't have won with 2012 Red Sox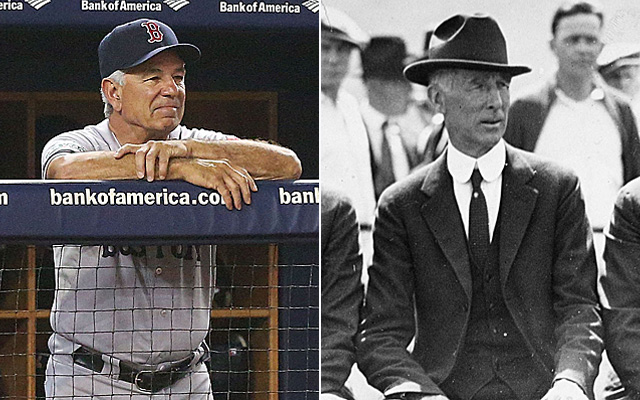 New Sacred Heart athletic director Bobby Valentine had a press conference Tuesday to discuss his new gig. Of course, he couldn't escape questions about his old gig. And, in true Bobby V fashion, he couldn't stay out of his own way in answering the questions.
A good example would be this gem, via WEEI.com:
"I thought I did a hell of a job in Boston," Valentine said. "I thought what had to be done there was done except for winning a pennant. But Connie Mack wasn't going to win with that team."
Spring training
Related links
I believe this is where the kids would type in something like, "lmao."
Let's start here with the part where he said what had to be done was done. Yes, he acknowledged "except for winning a pennant." Short of that, he accomplished what he wanted to? Seriously? The Red Sox went 69-93, marking the worst single-season record since 1965. The Red Sox also came in last place for the first time since 1992 and they hadn't finished lower than third since 1997.
But, guys, it wasn't his fault. You see, Connie Mack couldn't have won with the team Valentine was given. You see, those stiffs in 2011 only went 90-72 and would have been the second AL wild card under the current format.
Now, in fairness to Valentine, it wasn't exactly the same team. Closer Jonathan Papelbon was out the door. Also, they lost Jacoby Ellsbury to injury, several players underperformed and then later David Ortiz fell injured. There were more injuries, too.
Now, in fairness to the players, Valentine completely alienated the locker room on several occasions -- specifically Kevin Youkilis -- and seemed to be ruining the club internally from the get-go. There was plenty of talent on that team when the season began and the huge trade that purged Adrian Gonzalez, Josh Beckett and Carl Crawford didn't happen until the season was over.
What's more, Valentine making comments like these shows he's still not accountable for any of the myriad mistakes he made during the season.
But that's fine. The worst Red Sox team in recent memory was the product of a "hell of a" job by Valentine, and Hall of Fame manager Connie Mack (winner of five World Series) would have done a terrible job with them, too. OK, Bobby. Now enjoy Sacred Heart.
NOTE: As several have mentioned on Twitter, yes, I know Mack had a losing record after managing for a whopping 53 years. He had some awful teams. That's not the point. The point is Valentine was trying to say something like "no one could have won with that team," and that's the problem. Just because he chose Mack's name doesn't mean he's absolved from the quote.
For more baseball news, rumors and analysis, follow @EyeOnBaseball on Twitter, subscribe to the RSS feed and "like" us on Facebook. Also, individually interact with us on Twitter: @MattSnyder27, @daynperry and @mikeaxisa.