2013 Team Preview: Kansas City Royals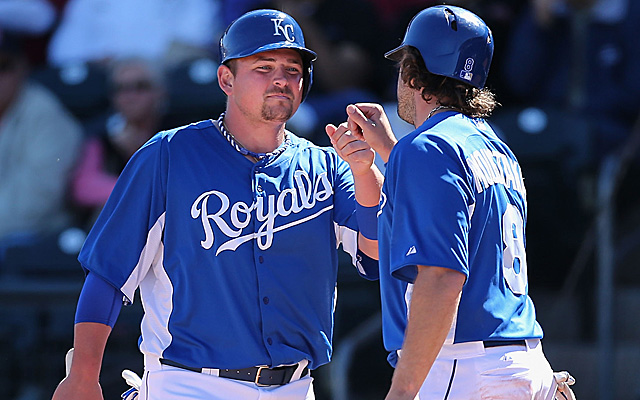 The Royals entered last season hoping it was the year that the turnaround began. They had a good young nucleus and hoped that the pitching would surprise. It didn't. And a few young players disappointed, namely prized first baseman Eric Hosmer, who had an awful sophomore campaign. The result was a 72-90 record and a third-place finish in the weak AL Central. Interestingly, though, a 12-game losing streak in April essentially ruined the season.
Looking ahead to 2013, the Royals have geared up to compete by going after starting pitching. They coughed up Wil Myers, a consensus top five prospect in all of baseball, and a few other prospects to get Wade Davis and All-Star James Shields from the Rays. They re-signed Jeremy Guthrie to a three-year deal and also traded for Ervin Santana.
Will it be enough? Let's check them out.
Probable lineup
1. Alex Gordon, LF
2. Alcides Escobar, SS
3. Eric Hosmer, 1B
4. Billy Butler, DH
5. Mike Moustakas, 3B
6. Salvador Perez, C
7. Jeff Francoeur, RF
8. Lorenzo Cain, CF
9. Chris Getz, 2B
Probable rotation
1. James Shields
2. Jeremy Guthrie
3. Ervin Santana
4. Wade Davis
5. Bruce Chen
ALT: Luke Hochevar
Bullpen construction
Closer: Greg Holland
Setup: Aaron Crow, Tim Collins, Kelvin Herrera
Notable bench players
C George Kottaras, 2B Johnny Giavotella, OF Jarrod Dyson
Under-the-radar offseason transaction
Much of what the Royals did this past offseason was high-profile, but grabbing Kottaras off waivers from the A's (after Oakland acquired John Jaso) was a quality addition. Kottaras is definitely not a starting-caliber backstop, but that's not what is being asked of him. The Royals have young Salvador Perez to handle the bulk of the catching duties. When he needs a day off, Kottaras brings his career .320 on-base percentage and decent-to-good home run power (24 career homers in 592 at-bats) to the table. Kottaras is a good backup catcher who was picked up off the scrap heap. I believe that's what we call "under the radar."
Fantasy bounceback: Eric Hosmer
Hosmer hit .312 in over 1,000 minor league at-bats. In 2011, between Triple-A and the majors, Hosmer hammered 22 home runs and hit .316. He stole 14 bases. And then, without warning, Hosmer fell flat on his face in 2012, with a .232 average and 14 home runs in 152 games. There were 16 steals, sure, but this was supposed to be the year Hosmer hit .320 with 25 home runs to go with the speed. What happened? Mainly, it was Hosmer hitting balls where defenders were positioned, as he finished the year with a BABIP of .255 (in short, bad luck played a big role). Everything prior to last season points to Hosmer being a successful major league player. Chalk up 2012 to bad luck and you will have a nice value pick in the later rounds of most drafts. - Nando Di Fino [Full Royals fantasy team preview]
Biggest strength
The position-player nucleus is where it's at here. Not only is there immense talent, but there's youth. Perez (age 22), Hosmer (23), Escobar (26), Moustakas (24), Gordon (29) and Butler (26) have the ability to post some really solid offensive numbers together and make the Royals' lineup one of the better ones in the league. Obviously there needs to be improvement from Hosmer and Moustakas and considering age it's likely. Escobar could use some more plate discipline and Perez needs to stay healthy, too, but the potential here is big.
Biggest weakness
Unfortunately it still appears to be the starting rotation. Granted, it's not nearly as bad as last season, when Royals' starters went 47-69 with a 5.01 ERA and 1.46 WHIP. Shields will be a major boost here while Santana, Guthrie and Davis have the potential to come through with productive seasons. Still, there are pitfalls. Santana has posted a negative WAR in three of the past six seasons and his only consistency is that he's inconsistent. Guthrie was very good for Kansas City last season after the trade, but showed his downside in Colorado pretrade, where he was awful. Davis was great for the Rays last season, but that was as a reliever. He's got a 4.22 ERA and 1.36 WHIP in 64 career starts. To reiterate, the Royals have a (much?) better rotation than last season, but it's still going to be a big question mark, at least for the four men behind workhorse Shields.
Best-case scenario
Hosmer, Moustakas and Perez emerge as bona fide stars while Santana and Davis reach their potential on a consistent basis. Shields, Butler, Gordon and the underrated bullpen do exactly what they're expected to do while the Tigers underwhelm. Being in the race in mid-July, general manager Dayton Moore adds some pieces at the trade deadline to help shore up some weak areas (second base and maybe even right field, though they seem enamored with Francoeur). And the Royals win the AL Central for the first time (they were in the AL West last time they made the playoffs, which was 1985).
Worst-case scenario
Moustakas and Hosmer continue to experience growing pains, which means the offense only really has two (maybe three, if we want to include Perez) reliable offensive pieces. Cain and Perez could again encounter health issues, too. The rotation behind Shields could be a disaster, with Guthrie, Santana, Davis and Chen posting ERAs in or near the 5-range. If all this happens, the Royals can't finish better than fourth and likely lose the battle with the Twins to finish last.
Most likely scenario
Hosmer and Moustakas are almost certain to improve while it would be surprising to see Perez and Cain lose so many games to injury again. There will be consistency issues in the rotation behind Shields, but it's definitely better than what the Royals ran out there last year and the bullpen is very good. The optimism in Kansas City is well-founded, because this group has talent.
Ultimately, I like the Royals to compete with the Indians and White Sox for second place in the AL Central. If forced to make a decision right now, I'm going with the Royals to win 85 games and finish in second place. But that could easily change before we submit our predictions in late March.
For more baseball news, rumors and analysis, follow @EyeOnBaseball on Twitter, subscribe to the RSS feed and "like" us on Facebook. Also, individually interact with us on Twitter: @MattSnyder27, @daynperry and @mikeaxisa.