The Bobblehead Project: Derek Jeter, 'The Flip'
We introduced our Bobblehead Project last week with the first submission, the Reggie Jackson vs. Billy Martin dugout argument bobblehead. Our series continues today with another Yankees-themed bobblehead, the Derek Jeter "Flip" Play in Oakland.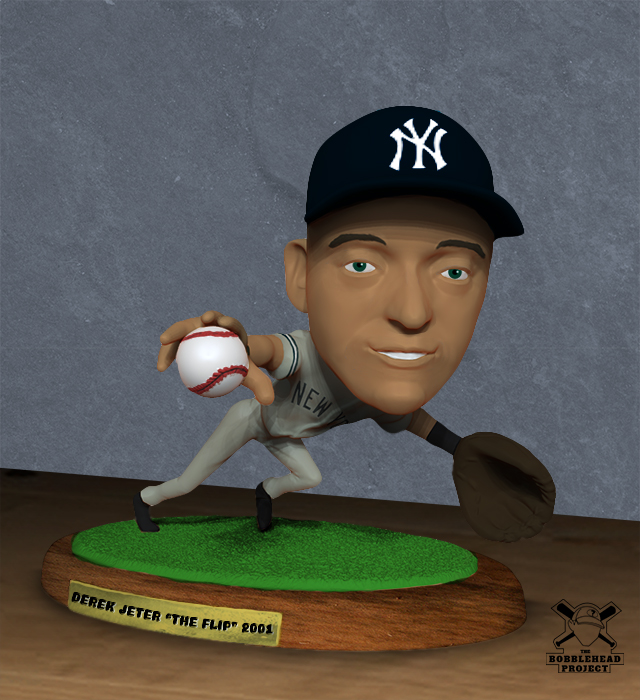 I'm sure you're all familiar with the "flip" play by now (

check out the video). In the simplest form, Yankees shortstop Derek Jeter zoomed across the infield to cutoff a relay throw from right field and shuffle it to the catcher for the out at home. Shortstops have no business being in that spot on the field, but there was the Yankees captain to record the assist.
The "flip" play needs proper context before you can appreciate its magnitude, however. The 102-win Athletics marched into Yankee Stadium and won Games 1 and 2 of the 2001 ALDS, giving them a commanding 2-0 lead as the best-of-5 series shifted to Oakland. Left-hander Barry Zito handcuffed the Yankees for eight innings in Game 3, limiting them to one run -- a solo homer by Jorge Posada in the fifth inning -- on just two hits. Mike Mussina, in what was arguably the biggest start of his Yankees career, tossed 6 2/3 shutout innings before allowing a two-out single to Jeremy Giambi in the seventh.
Mussina's pitch count hit the century mark when the next hitter, outfielder Terrence Long, sabotaged a 2-2 fastball and hooked the pitch down the right field line and into the corner. Right fielder Shane Spencer retrieved the ball and fired aimlessly toward the infield, overthrowing the cutoff man.
Third base coach Ron Washington sent the slow-footed Giambi home on the play, and he would have been safe had Jeter not ventured over the first base line to retrieve Spencer's errant throw and shuffle it to over to Posada, who applied the tag. Why Giambi didn't slide, we'll never know.
The lead was preserved and Mariano Rivera went on to close out the 1-0 win with a two-inning save. The Yankees went on to complete the comeback and win the series in five games.
The "flip" play remains a staple on highlight films and will forever be a part of Jeter's legacy. I think the Yankees would jump at the idea to market this bobblehead given the significance of both the play and player in their recent history. The series is still fresh enough that both young and old fans can appreciate the significance of the play and enjoy reliving it. I'm not sure how many people outside of the Bronx would care to collect the bobblehead, but it would be an A+ giveway at Yankee Stadium.
Tip of the hat to the artist, Jarod Valentin.
Bobblehead Gallery (click on thumbnail) ...
Bobblehead Gallery (click on thumbnail) ...