Will Cubs change logo, uniforms?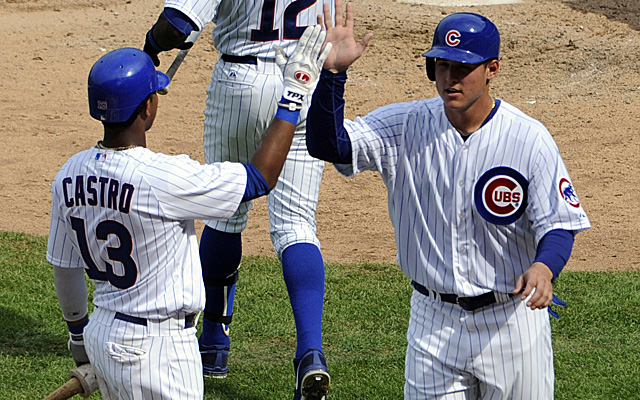 This is sure to be met with outrage from some old-school types, as any potential changes to traditional things in baseball are, but there's a report that the Cubs' marketing department is considering changes to the logo and uniforms, in addition to adding a Jumbotron to Wrigley Field.
From Bleacher Nation, a Cubs blog, we present the following:
According to a BN'er who was at a small focus group held earlier this week by marketing executives, the Cubs are exploring a number of branding changes in the coming years, including new uniforms and a new logo.

Although the familiar home pinstripe unis aren't under consideration for revamping, the focus group was shown a variety of potential road uniform changes, including a navy blue look (as opposed to the "Cubbie blue"), which was apparently designed to have a "vintage" feel. The Cubs are also considering regular throwback jerseys that they would wear on Sundays, or at least some kind of alternate jersey which would commemorate the 100 year anniversary of Wrigley Field in 2014. Similarly, the revamped road jerseys are under consideration for 2014.

The group was also shown a variety of different Cubs logos, according to the source, though the classic "C" cap logo is not currently being reconsidered (whew). The reconsidered logos ranged from subtle changes to the "C," to the old school bear look, to completely new logos.
First things first: This was only a focus group, which means any changes under consideration are in the preliminary stages in the discussion. It could be a situation where absolutely nothing at all comes of this.
Also, it sounds like the traditional home pinstripes and the hat are safe. Thus, I would hope any anger from the fanbase would be kept to a minimum. The logo with a bear has been tinkered with through the years, just as the road uniforms have been. And I have to say, I love the idea of a navy-blue road uniform that would contain similarities to the threads from a century ago. Click here to see what the 1911 road uni looked like, via HeritageSportsArt.com. A modern-day styling in that mold has tremendous potential, in my opinion.
As far as the Jumbotron idea, this is the sporting world we live in. It's not like they'd be tearing down the center-field scoreboard or the home-plate marquee.
For more baseball news, rumors and analysis, follow @EyeOnBaseball on Twitter, subscribe to the RSS feed and "like" us on Facebook. Also, individually interact with us on Twitter: @MattSnyder27, @daynperry and @mikeaxisa.