Reunited with Dusty Baker, Mark Prior in Reds camp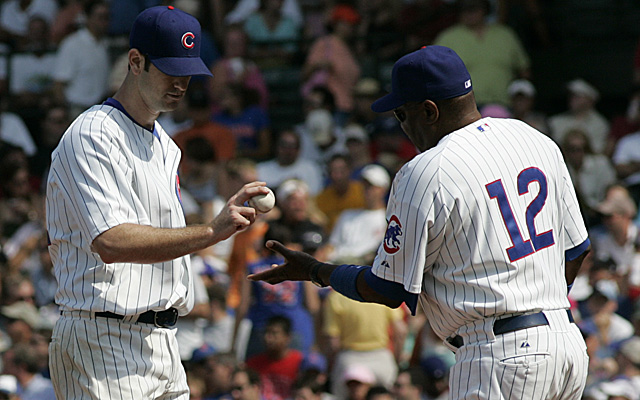 Mark Prior is in Reds camp as a minor-leaguer. He's not even a non-roster invitee with the big-league Reds, so this would otherwise be a non-story. But since he's with the Reds making his, I don't know, 55th (?) comeback attempt, it's a story due to the Reds' manager: Dusty Baker.
All of Prior's big-league career other than 19 starts his rookie year were under Baker. It was under Baker that Prior went 18-6 with a 2.43 ERA, 1.10 WHIP and 245 strikeouts in 211 1/3 innings in 2003, good enough for a third-place finish in NL Cy Young voting. Prior was also a beast that postseason, putting together a 2.31 ERA in three starts.
Of course, we all know the story of how injuries derailed Prior's once-promising career. Many blame the high workload that he had under Baker in 2003, when Prior was only 22. He threw at least 100 pitches in his final 10 outings that season, and he threw at least 124 in five of his final six outings. In his three playoff starts, Prior threw 133, 116 and 119 pitches, respectively.
Baker told Prior to expect this to be a story.
"I told him, you know it's going to cause a big story. I know it's going to open old wounds, but my wounds are keloided [scarred] at this point," Baker told reporters, via CBSSports.com's Danny Knobler. "There's no manager around that doesn't have somebody who got seriously hurt. Nobody."
Baker knows people blame him, too.
"They always want to blame somebody," Baker said (Cincinnati.com). "It's usually someone at the top."
It sounds as though Prior doesn't blame Baker, however, as the manager noted the two have remained close over the years.
And now they are reunited, even if briefly during spring training.
For more baseball news, rumors and analysis, follow @EyeOnBaseball on Twitter, subscribe to the RSS feed and "like" us on Facebook. Also, individually interact with us on Twitter: @MattSnyder27, @daynperry and @mikeaxisa.