Rafael Furcal will 'probably' visit Dr. James Andrews on Wednesday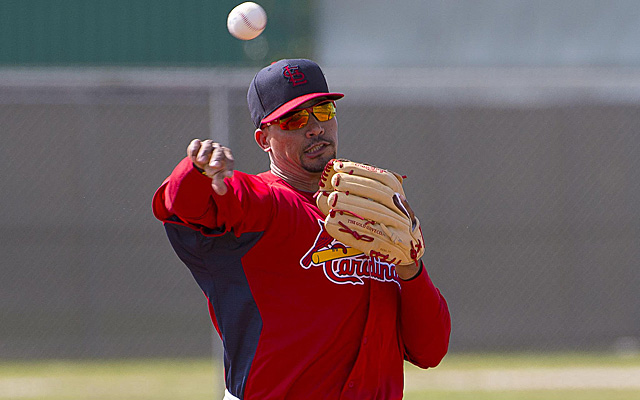 Over the years, most baseball fans have likely grown accustomed to thinking doom and gloom when reading that Player X or Player Y is set to visit renowned orthopedic surgeon and expert on all-things-Tommy John, Dr. James Andrews. And it appears that's where Cardinals shortstop Rafael Furcal is headed.
"We'll probably have him see Dr. Andrews on Wednesday," Cardinals general manager John Mozeliak said to the St. Louis Post-Dispatch on Monday.
Sunday, Furcal told reporters that he was "disappointed" because his elbow is "not getting better."
Remember, Furcal suffered a torn ulnar collateral ligament last August -- an injury that is usually followed with Tommy John surgery -- and decided to try to rehab the injury without surgery. After an encouraging MRI in November, things have gone downhill for Furcal. He's now also dealing with a bone-spur issue in the balky elbow.
Mozeliak told the Post-Dispatch that Furcal being ready to go for opening day is a "long shot," so it sounds like this will linger on into the regular season and possibly far into the season.
Furcal, 35, hit .264/.325/.346 with 69 runs and 12 steals in 121 games last season before the injury.
If Furcal opens the season on the shelf -- which looks pretty likely -- 24-year-old Pete Kozma will be set to step in. Kozma hit .333/.383/.569 with five doubles, three triples, two homers and 14 RBI in just 82 plate appearances last season. He then further endeared himself to Cardinals fans with a two-out, two-RBI, ninth-inning single that turned out to be the series-winning hit over the Nationals in the NLDS.
For more baseball news, rumors and analysis, follow @EyeOnBaseball on Twitter, subscribe to the RSS feed and "like" us on Facebook. Also, individually interact with us on Twitter: @MattSnyder27, @daynperry and @mikeaxisa.