Nationals, Phillies renew HBP-and-retaliation feud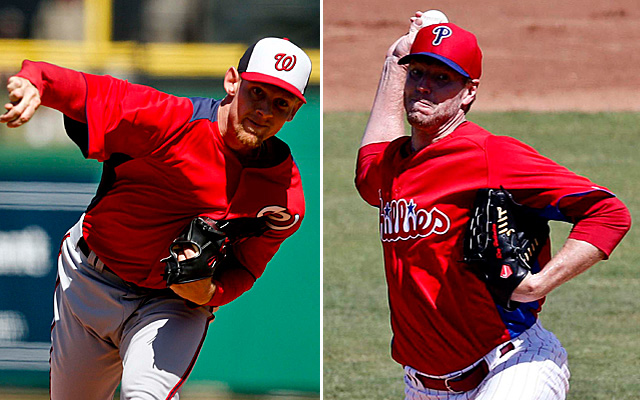 Remember last season when Phillies starter Cole Hamels hit prized Nationals prospect Bryce Harper just because he felt like it? Wednesday in spring training, the two ballclubs got to know each other on a similar level.
First, Nats ace Stephen Strasburg -- now without an innings limit! -- hit Phillies second baseman Chase Utley in the ankle area. Then, Phillies ace Roy Halladay threw a pitch behind Tyler Moore of Washington.
On the Nationals side, here are the quotes, via Washington Times:
"I don't have any reason to throw at him, do I?" Strasburg said.

"He missed a little inside," Moore deadpanned. "Maybe it just slipped out of his hand."
On the Philadelphia side, here we go, via CSNPhilly.com:
"It slipped," Halladay said of the pitch to Moore.

He paused.

"A little bit."

Halladay went on to say that Phillies pitchers need to watch the backs of the team's hitters. This probably was a case of that.

"I think we do need to protect our guys to an extent," he said. "I'm not saying that's what happened – it slipped – but I think that's important. We've had a lot of guys hit over the years and I think as a staff we need to do a good job protecting those guys."
As a reminder, the Phillies and Nationals play each other 19 times this season, starting with a three-game series May 24 in DC. The Phillies had won the NL East five straight seasons until the Nationals took the division last season.
For more baseball news, rumors and analysis, follow @EyeOnBaseball on Twitter, subscribe to the RSS feed and "like" us on Facebook. Also, individually interact with us on Twitter: @MattSnyder27, @daynperry and @mikeaxisa.