Q&A: Tommy Lasorda talks WBC, Dodgers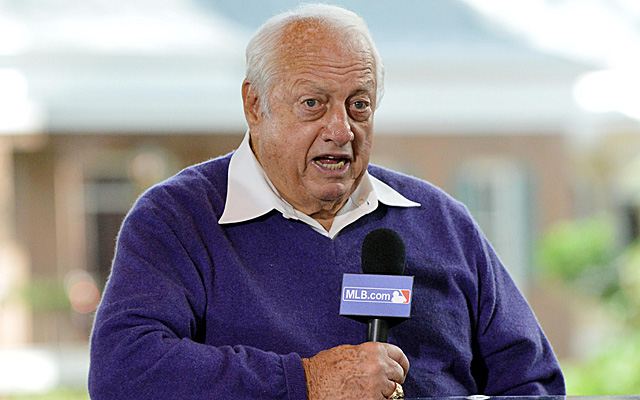 As Team USA gets ready to open up play in the World Baseball Classic, Eye on Baseball caught up with the venerable Tommy Lasorda to talk WBC and the Dodgers for a few quick questions (he was in the midst of a very busy day in New York).
The legendary manager is no stranger to international play, as he led the 2000 Olympic team to a gold medal. And he believes Team USA should dominate international play. Also, he was very succinct.
Here we go:
Matt Snyder: When you managed for the Dodgers, how would you have felt about some of your players leaving camp to play in the World Baseball Classic?
Tommy Lasorda: I wouldn't mind it at all because they would be playing. People gotta realize that, what the hell is the difference between them being in spring training or playing [in the WBC]. They've been in spring training two or three weeks now.
MS: Is it different for veterans to leave camp to play in the event as opposed to younger guys who might be trying to secure a roster spot?
TL: No. Anybody that the team wants, they should go. That's the way I feel.
MS: Many fans still seem lukewarm about the World Baseball Classic. They just aren't that excited. Do you think that would change if the U.S. advanced a little bit further?
TL: Well, that's just a bad attitude to take. Those teams out there playing, they wanna win.
MS: I assume you feel Team USA should be the favorite for the event?
TL: We should be. It's our game! It doesn't belong to Venezuela or Cuba. It's our game! We shouldn't let those donkeys beat us!
MS: On the Dodgers, are you happy to have Frank McCourt out of there in favor of the new ownership group now?
TL: They're good people. They're very, very good people. I can't say anything bad about McCourt. He treated me great, and I can't say a bad word about him. But a lot of people didn't like him, and he had problems. But the people that came in, they are outstanding people and they are really doing everything they can to put a winner on the field.
MS: Do you think they have a World Series-caliber team right now?
TL: Absolutely. Without a doubt. You can take my [World Series winning] team in '88 and match it with this one.
MS: Do you think that your 1988 Dodgers team was better than this current Dodgers team?
TL: Hell no! There's no way.
And there you have it. The 85-year-old Lasorda was definitely not lacking for energy and was extremely boisterous. Don't misconstrue -- he was certainly polite to me. He just seemed fired up in favor of Team USA. And there's nothing wrong with that.
For more baseball news, rumors and analysis, follow @EyeOnBaseball on Twitter, subscribe to the RSS feed and "like" us on Facebook. Also, individually interact with us on Twitter: @MattSnyder27, @daynperry and @mikeaxisa.