Angels prospect was once Te'o'd (kind of)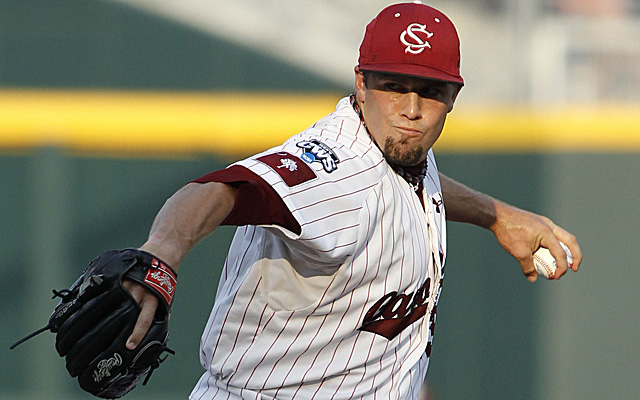 We've all been bludgeoned over the head with Manti Te'o jokes ever since news broke that his alleged deceased girlfriend, Lennay Kekua, was found out to be fictional. Obviously he's not alone, as can be seen with the MTV Catfish craze. Angels pitching prospect Michael Roth also had this experience, though not nearly as in depth.
From the Los Angeles Times, this happened to Roth in a summer league in Maine in 2010 (extremely long blockquote alert!):
"Are you the cute Michael I met?" read the message.

That started a stream of flattering texts and alluring phone calls from a woman Roth never had met, including the requisite visits that inevitably were canceled at the last minute.

Roth said he sensed something fishy within a few weeks. He played along for a year, in the process discovering that three of his college teammates also had been in touch with the same woman, who claimed her name was Hope Porter.

"As athletes, you're a target in general," Roth said Friday. "I think it's part of the problem with a guy being a guy, when you're younger. You see an attractive girl that tweets at you or texts at you or whatever, and you're somewhat intrigued.

"It's hard being a guy and not using your brain at times."

So, as a fellow victim of the so-called "Catfish" phenomenon, could Roth sympathize with Te'o?

"To an extent," Roth said, laughing. "You can't fall in love over a phone. … I wasn't sleeping with a phone, that's for sure."
So it appears the difference is Roth wasn't nearly as taken in as Te'o was, and obviously this was without publicity and a fake death.
Also, how classic a quote about how sometimes it's "hard being a guy." So true.
Roth, a 23-year-old left-hander, was 0-2 with a 4.91 ERA in 11 appearances in Rookie Ball last year after being drafted in the ninth round out of South Carolina. Thus far in the spring, he's thrown two perfect innings.
For more baseball news, rumors and analysis, follow @EyeOnBaseball on Twitter, subscribe to the RSS feed and "like" us on Facebook. Also, individually interact with us on Twitter: @MattSnyder27, @daynperry and @mikeaxisa.