Please, Joe Torre, settle down with the bunts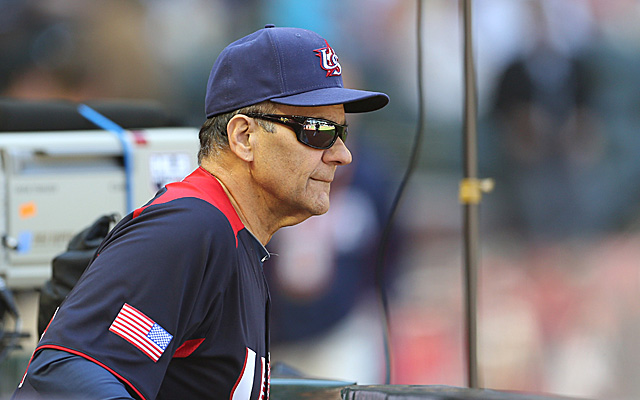 Team USA advanced to the second round of the World Baseball Classic with a win over Canada on Sunday. So that's the good news. But what's with all the bunts?
In the second inning, Team USA manager Joe Torre elected to have Adam Jones sacrifice bunt with runners on first and second and no outs. In the fourth inning, Ben Zobrist bunted in the same situation. In the top of the eighth, Zobrist again was tasked with bunting in the same situation.
One time the bunt was successful, but USA still didn't score. Next time Team Canada made an error, leading to two USA runs. The last time, the bunt failed, but USA scored three runs in spite of it.
The results don't matter, though, even when bunting works out well. It's like if a basketball player takes an ill-advised shot and it goes in, or a quarterback throws into triple coverage and it results in a touchdown. Just because the result worked out doesn't mean it should happen in the first place.
Now, this is about the time where proponents of bunting start screaming about "fundamentals" and "real baseball." "Get 'em on, get 'em over, get 'em in!" they'll cry. The problem is that's all just rhetoric. See, we were taught from the time we started playing baseball that bunting runners over is the right play. Plus, it's selfless, as you are giving yourself up to help the team. Thus, it seems more honorable. So many of us can't seem to get past that archaic notion.
The problem is that there's actual evidence that suggests bunting decreases an offense's chances of scoring in almost every situation.
The run expectancy matrix, over on TangoTiger.net, shows us as much. They studied every single inning of every single game from 1950-2010, divided up into eras.
So you think you should bunt with a runner on first and no outs? "Get him into scoring position," right?
From 1993-2010, 0.941 runs scored per inning with a runner on first and no outs. With a runner on second and one out, 0.721 runs scored per inning. From 1950-68 (0.837 with a runner on first and no outs compared to 0.68 with a runner on second and one out) and 1969-92 (0.853 and 0.678), again we see that the offense scored more frequently with a runner on first and no outs than with a runner on second and one out.
Well, how about with runners on first and second and no outs? That's automatic, right, to get two players in scoring position? It sure shouldn't be.
From 1993-2010, an average of 1.556 runs scored per inning when a team had runners on first and second with no outs. An average of 1.447 scored per inning when a team had runners on second and third with one out. The earlier eras also showed more runs in the former situation than the latter. It's a small difference, but it's still lower. And even if they were dead even, you let good hitters swing away.
Also, runner on second base and no outs (1.17) scored more times than a runner on third with one out (0.989) in the most recent era, and the totals were similar in the earlier eras.
Now, obviously these are averages, which means that with terrible hitters -- such as pitchers in the National League -- bunting is a good idea when the situation calls for it. I'm cool with that. I also like the surprise factor of a suicide squeeze at times, and I'm certainly OK with speedy players dropping down a bunt for a hit. But hitters like Jones (.287/.334/.505 with 39 doubles and 32 home runs last year) and Zobrist (.270/.377/.471 with 39 doubles, seven triples and 20 homers last year) being forced to bunt in situations where it decreases the odds of scoring multiple runs? As Cosmo Kramer would say, that's kooky talk.
Argue if you want, old-schoolers, but your side has name calling, anecdotes and meaningless rationale. My side has the cold, hard facts. You cannot dispute 60 years worth of evidence. And no, I'm not a pocket-protector-wearing dork who never played the game. I played in college, and I hated it every single time my coaches in high school or college called for someone on our team to bunt. It's not because I like "selfish" baseball or hate "fundamentals." It's because there are only three precious outs in an inning. Why would you give one away on purpose?
And yet we'll continue to see teams bunt throughout the rest of the World Baseball Classic and all season in 2013. Maybe one day there will be enough integration of the evidence across baseball that teams stop giving away outs, but that sure seems far off, doesn't it?
For more baseball news, rumors and analysis, follow @EyeOnBaseball on Twitter, subscribe to the RSS feed and "like" us on Facebook. Also, individually interact with us on Twitter: @MattSnyder27, @daynperry and @mikeaxisa.