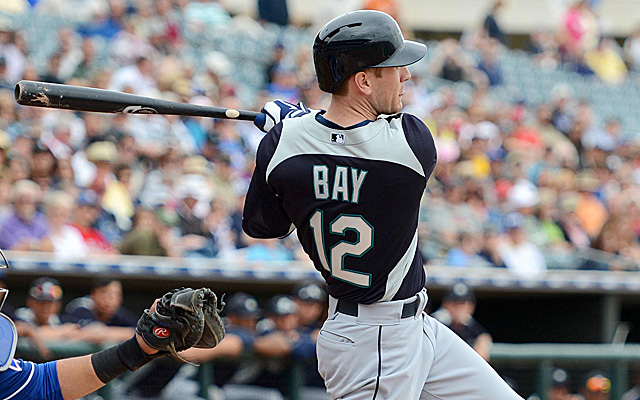 The 2012 Seattle Mariners were the worst offensive team in the American League last year, ranking dead last in runs, batting average, on-base percentage and slugging percentage. They are moving in the Safeco Field fences and have added some power upgrades this offseason, but are still without a leadoff man. And this week they are auditioning Jason Bay as a leadoff man.
Wait, what? Jason Bay?
Yes, Bay is hitting leadoff Wednesday and it's legitimately being considered for the season, reports the Seattle Times.
Upon initial glance, this sounds ridiculous. Bay hit .165/.237/.299 for the Mets in 215 plate appearances last season. Even when he's been good, Bay is a power hitter and most people think power hitters should be in the middle of the order.
If the Mariners get Good Jason Bay, however, this idea isn't as off-the-wall as one might think. Due to a high-walk rate, Bay sports a career .363 on-base percentage with his .269 batting average. He's not slow, either, as he's stolen at least 10 bases in a season six times.
Bay, 34, was hitting .333/.440/.714 with a triple, two homers and four RBI in 25 plate appearances this spring entering Wednesday. So that has to factor into the Mariners' consideration for him in the leadoff spot.
Still, doesn't it just sound hilarious? Of all the things we thought we might hear regarding the Mariners this season, Jason Bay hitting leadoff had to be pretty low on the list.
For more baseball news, rumors and analysis, follow @EyeOnBaseball on Twitter, subscribe to the RSS feed and "like" us on Facebook. Also, individually interact with us on Twitter: @MattSnyder27, @daynperry and @mikeaxisa.