Astros owner says fans can write him $10M check to increase payroll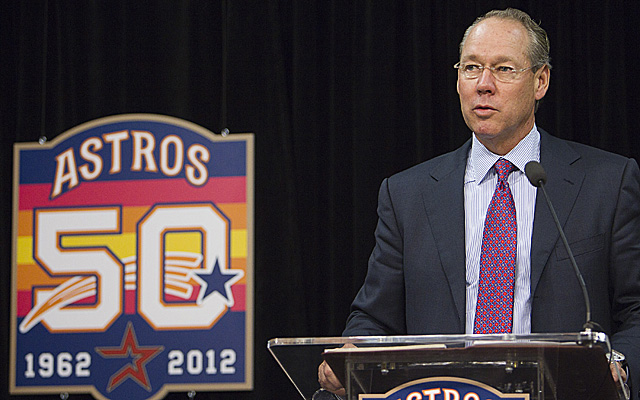 Astros owner Jim Crane was already off to a rough start with Astros fans due to the fact that he had to move the club to the American League in order to buy the club, and his latest remarks certainly won't help change anything.
In light of the fact that the Astros are set to have the league's lowest payroll -- likely around the $25 million mark, once the roster is finalized -- Crane said the following to the Wall Street Journal:
"It doesn't bother me that people want us to spend more money. But it's not their money. This is a private company, even though it's got a public flair to it. If they want to write a check for 10 million bucks, they can give me a call."
Wow.
Now, let's be fair here. The Astros' farm system was in absolutely pitiful shape when Crane took over and he hired farm system guru Jeff Luhnow to be his new general manager. It is now -- after only a year and a few months under Crane -- one of the better systems. They went from 27th to fourth in farm system rankings of ESPN.com's Keith Law in just one year, for example.
They are taking the slow build approach, not unlike the Cubs, albeit far more extreme. Considering the move to the mighty AL West, the Astros' approach of building the foundation first makes more sense than trying to plug holes with overpriced veterans.
That's all true and it's where Crane is coming from. There's no reason to waste money on veterans this season just for the sake of having a higher payroll.
It's just that phrasing it like Crane did shows a willfull disregard for the morale of the fan base. The Astros had the worst record in the majors the last two seasons and appear headed that way in 2013. A little sensitivity to his constituents might serve Crane better in the future.
Hat-tip: Big League Stew
For more baseball news, rumors and analysis, follow @EyeOnBaseball on Twitter, subscribe to the RSS feed and "like" us on Facebook. Also, individually interact with us on Twitter: @MattSnyder27, @daynperry and @mikeaxisa.