Dominican Republic beats USA, moves to championship round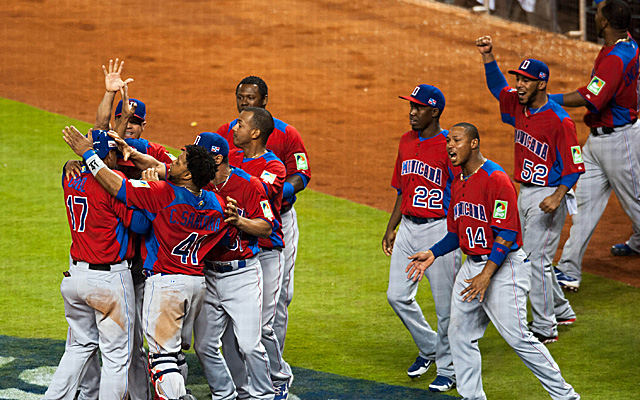 Full World Baseball Classic coverage
The Dominican Republic defeated the United States in World Baseball Classic play on Thursday night 3-1. That means the Dominican Republic will join Japan and the Netherlands in the championship round. One more team will join that group, either the United States or Puerto Rico.
One item of note here: After USA scored a run in the first inning -- and left the bases loaded -- Hanley Ramirez tied the game for the Dominican Republic with a solo blast in the second inning. After that, no one scored again until the ninth inning.
Hero: We'll go with the combination of Nelson Cruz, Carlos Santana and Erick Aybar for the Dominican Republic. Cruz led off the ninth against lights-out closer Craig Kimbrel with a rocket double to right. Santana then battled through an eight-pitch at-bat for a fundamentalist's dream, a GBRS. That is, a ground ball to the right side, advancing Cruz to third base with one out. Aybar followed with a go-ahead RBI single. He would then steal second and score on Jose Reyes' single, giving the Dominican Republic a 3-1 lead that it wouldn't relinquish.
Goat: The offense probably should have managed more than one run, especially after scoring in the first inning and then leaving the bases loaded. They left nine runners on base in all. Still, Kimbrel has to be the pick. Get this: Kimbrel only allowed 27 hits and seven earned runs all season in 2012. In 62 2/3 innings. On Thursday night, he was chased after 2/3 of an inning after allowing three hits and two earned runs. And the grounder by Santana was a scorcher; it just so happened to be right at USA second baseman Brandon Phillips.
Turning point: Aybar's hit. Even after the Cruz double and Santana single, Dominican Republic's work was far from over, considering Kimbrel struck out 16.7 batters per nine innings last season. If anyone could work out of that, it was him.
It was over when: Reyes plated Aybar. One run against Dominican Republic closer Fernando Rodney is very tough, but it's feasible. With two runs and J.P. Arencibia and Willie Bloomquist due up second and third in the USA ninth (after Adam Jones), there wasn't much of a chance that USA could manage a two-run-or-more rally. As it turned out, USA manager Joe Torre used Ben Zobrist and Shane Victorino as pinch-hitters. But that didn't make a difference, as Zobrist struck out and Victorino popped out.
Next: USA has to win a rematch with Puerto Rico on Friday night in order to stave off elimination. The game is at 7 p.m. ET in Marlins Park on MLB Network. The winner of the game will head to the championship round in San Francisco, which will begin Sunday night.
For more baseball news, rumors and analysis, follow @EyeOnBaseball on Twitter, subscribe to the RSS feed and "like" us on Facebook. Also, individually interact with us on Twitter: @MattSnyder27, @daynperry and @mikeaxisa.