Puerto Rico eliminates USA, advances to final round of WBC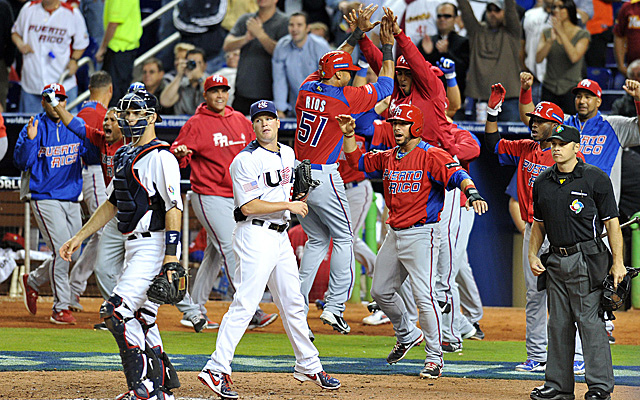 World Baseball Classic coverage
Puerto Rico beat the United States 4-3 Friday night in World Baseball Classic play. The victory moves Puerto Rico to the elimination round and eliminates the United States.
Hero: Puerto Rican starting pitcher Nelson Figueroa. It's not close, either, because he worked six shutout innings against the U.S., allowing only two hits and a walk. He only struck out two USA hitters and instead coaxed weak grounders and popups from the USA lineup with relative ease.
Goat: Joe Torre and the entire United States' offense. I've already tackled Torre's poor lineup construction and Friday night he stuck with Vinnie Pestano in a must-win game after consecutive walks -- the second of which forced in a run. Not surprisingly, Pestano then coughed up a game-changing double and the US trailed 4-0. And while we have to commend Figueroa for his effort, it's pretty bad that an All-Star-laden lineup can't even scratch across one run against him in six innings. Prior to the seventh inning, USA didn't even have a single runner get past first base. You usually can't cram an entire offense game into three innings, so the first six innings cost USA a trip to San Francisco. Also, it must be noted that Torre elected to try and steal second on Yadier Molina with Ryan Braun at the plate. Not surprisingly, Jimmy Rollins was thrown out by the Puerto Rican catcher.
Turning point: The 1-0 deficit was workable. Even the 2-0 deficit after Pestano walked in a run wasn't too bad for Team USA. But the ensuing hitter, Andy Gonzalez (White Sox system), ripped a double off the left-field wall to plate two more runners and Puerto Rico now sported a 4-0 lead in the sixth inning. That was the turning point in that it made a close game into an uphill battle for USA.
It was over when: It would be easy to say the game was over on the double by Gonzalez but Team USA -- flawed lineup construction, poor managing and all -- still has enough firepower to score runs in bunches. And they crawled back to within one on two separate late-inning rallies. So it was truly over when the game was literally over, as a Jimmy Rollins fly ball to center nestled into the glove of Puerto Rico center fielder Angel Pagan for the 27th out.
Next: Puerto Rico will square off against the Dominican Republic Saturday for seeding purposes (which should be unnecessary since Puerto Rico has one loss and Dominican Republic has none this round). Both are then headed to the championship round in San Francisco, which begins Sunday night. Netherlands and Japan are the other two finalists.
For more baseball news, rumors and analysis, follow @EyeOnBaseball on Twitter, subscribe to the RSS feed and "like" us on Facebook. Also, individually interact with us on Twitter: @MattSnyder27, @daynperry and @mikeaxisa.