What might the USA roster look like in the 2017 WBC?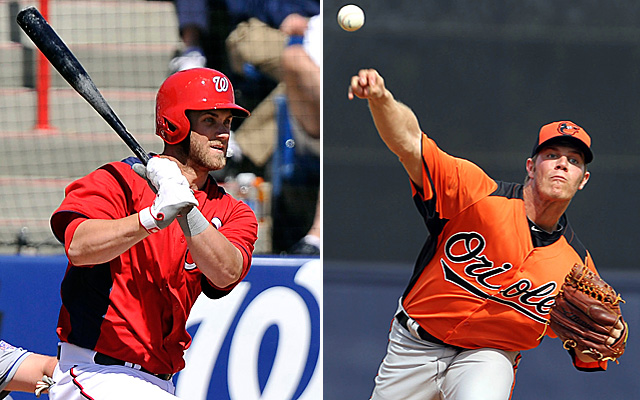 Earlier Sunday, I took a look at what a stacked lineup that Team USA could have put together for the 2013 World Baseball Classic. But it didn't. Maybe it will in 2017? That's the next installment of the WBC.
It's doubtful USA gets a majority of its true superstars to play due to myriad circumstances, but here's a look at what Team USA might be sorting through.
[Note: All ages mentioned in parentheses will be how old the player will be during the 2017 WBC]
Catcher
Joe Mauer's chances of still being a catcher, fully healthy and greatly productive in four years, are relatively low. Matt Wieters will be 30 and could make a nice fit. Mike Zunino (25) and Travis d'Arnaud (28) might prove to be worthy. The best bet for the biggest star catcher at the time, though, is still Buster Posey, who will be 29.
First base
Though I love Prince Fielder's durability, his body type doesn't generally seem to hold up well into the 30s. Take note of his father, Cecil Fielder, and Mo Vaughn, for example. So it's likely USA is choosing between Ike Davis (29), Eric Hosmer (27), Paul Goldschmidt (29), Brandon Belt (28) and Freddie Freeman (27). We'll see who develops into the best player. I lean toward Freeman.
Second base
It's a decent bet that Dustin Pedroia would still be my pick. He'll be 33. But don't discount Jason Kipnis (29) or Dustin Ackley (29).
Shortstop
Troy Tulowitzki will be 32. He's an easy choice, as there aren't too many exciting young American shortstops in the pipeline. Ian Desmond could also work.
Third base
Evan Longoria will be 31, which means he should still be in his prime and would be the likely best player. David Wright will be 34 and right on the verge or an age-related downturn but certainly still very productive. Chase Headley (32) and David Freese (33) will still be viable options. And what if Mike Moustakas (28) and Manny Machado (24) reach their very high upsides? There are several good options.
Left field
Ryan Braun will be 33, same as Alex Gordon. Both would be worthy candidates, and it's a good bet that Braun is still in MVP form. I'm going to say, however, that Bryce Harper will be baseball's best player in four years. And he's only going to be 24. He's the pick as the face of Team USA.
Center field
Mike Trout will only be 25, so he gets the nod over Matt Kemp (32), Austin Jackson (30), Andrew McCutchen (30), Twins prospect Bryon Buxton (23), Marlins prospect Christian Yelich (25) and Reds speedster Billy Hamilton (26).
Right field
Giancarlo Stanton will only be 27, but he'll have stiff competition from Wil Myers (27), Jay Bruce (29) and Jason Heyward (27).
Starting pitchers
I listed about 25 pitchers. It was a very tough call. Ultimately, here's my rotation:
Stephen Strasburg (28), Dylan Bundy (24), Clayton Kershaw (28), David Price (31) and Chris Sale (27).
Justin Verlander will be 34, but he might still be in ace form. In which case, I'd bump Sale for him. Others in the mix: Tajuan Walker (24), Gerrit Cole (26), Matt Cain (32), Madison Bumgarner (27), Tyler Skaggs (25), Trevor Bauer (26), Mat Latos (29), Shelby Miller (26), Matt Harvey (27), Zack Wheeler (26), Jarrod Parker (28), Kris Medlen (31), Cole Hamels (33), Matt Moore (27) and several more.
Relief pitchers
This one is the toughest to fill out because of how unpredictable relievers deal with age and also due to the fact that most minor-league stud pitchers are starters. But Craig Kimbrel (28) rather obviously will still be around. I also think we could count on David Robertson (31), Steve Cishek (30) and Drew Storen (29) to still be reliable relief options in four years. If Trevor Rosenthal (26) and Andrew Cashner (30) are in the bullpen four years from now, they'd work well, too.
Ultimately, though, the chances are half of the best picks will be on the team in 2017. That's reality. Still, it sure is fun to play around with the potentially stacked roster.
For more baseball news, rumors and analysis, follow @EyeOnBaseball on Twitter, subscribe to the RSS feed and "like" us on Facebook. Also, individually interact with us on Twitter: @MattSnyder27, @daynperry and @mikeaxisa.