Derek Jeter 'likely' to begin season on disabled list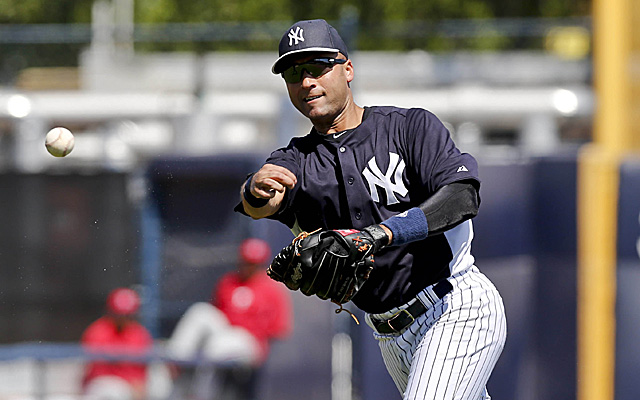 Yankees shortstop Derek Jeter will "likely" begin the 2013 season on the disabled list, general manager Brian Cashman said Sunday (via CBSSports.com's Jon Heyman). The goal is April 6 -- meaning he'd miss about one week -- though Jeter's surgically-repaired ankle is still sore.
"I can read his face, and his face today tells me the reality is starting to sink in that this disabled list situation might be necessary," Cashman said.
That means Eduardo Nunez will likely enter the season as the shortstop. We already know Alex Rodriguez, Mark Teixeira and Curtis Granderson will open the season on the disabled list. So, assuming the Jeter-to-DL move comes to fruition, the Yankees will have over $84 million worth of players on the DL when the season begins.
Not only that, the opening day lineup appears to be like so:
1. Brett Gardner, CF
2. Ichiro Suzuki, RF
3. Robinson Cano, 2B
4. Kevin Youkilis, 3B
5. Travis Hafner, DH
6. Juan Rivera, 1B
7. Brennan Boesch, LF
8. Nunez, SS
9. Chris Stewart, C
That's not exactly Astros-level bad, but it's far from imposing. The good news for the Yankees is Jeter may only miss a week and Granderson's return shouldn't be too far behind.