Vernon Wells-to-Yankees trade pending commissioner approval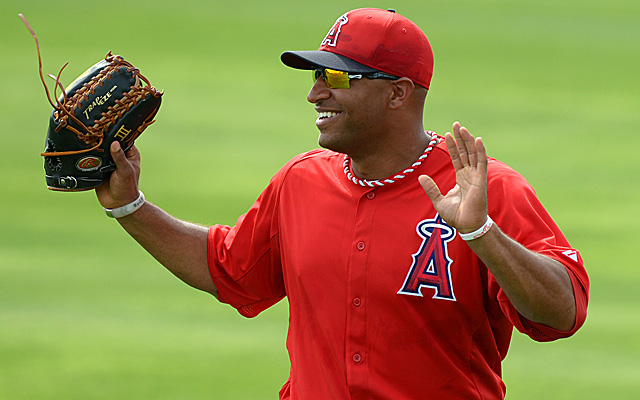 The Yankees and Angels have essentially completed a trade that will send outfielder Vernon Wells to New York, reports Scott Miller of CBSSports.com. Jon Heyman of CBSSports.com notes the Yankees will pay only about $13-14 million of Wells' remaining $42 million in salary -- which is due Wells over the course of the next two seasons.
Aside from the salary dump, there's no word on the Angels' return.
The deal won't be official until Monday at the earliest. The office of the commissioner must approve it and the Yankees must approve Wells' medicals. But expect it to be finalized and announced Monday, as only logistics remain. It's worth noting Wells has already said goodbye to his Angels teammates and has cleaned out his locker, according to the Los Angeles Times.
Wells, 34, hit .230/.279/.403 with 11 homers and 29 RBI in 262 plate appearances last season. He entered Sunday hitting .361/.390/.722 with four homers and 11 RBI in 41 plate appearances this spring.
Wells had no real spot with the Angels, as they have Josh Hamilton, Peter Bourjos and Mike Trout set in the outfield with the Mark Trumbo-Albert Pujols duo locked in at designated hitter and first base.
The Yankees, however, currently look slated to start with Brennan Boesch in left field, as Curtis Granderson is recovering from a broken arm. So Wells will get a real shot at the everyday job in left field out of the gates, one would imagine.
Word of the potential trade was first reported by Jeff Passan of Yahoo Sports.