Dodgers option hot-hitting Yasiel Puig to Double-A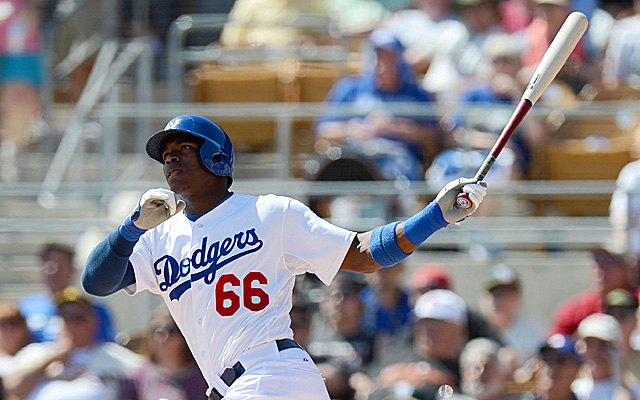 Related: GIF shows Puig flashing gap power and great speed
Cuban import Yasiel Puig has been turning heads at Dodgers camp all spring with his hot bat, including an impressive power-speed combination. Tuesday, the Dodgers announced Puig will begin the 2013 season with Double-A Chattanooga.
Entering Tuesday, the 22-year-old right fielder had a ridiculous .526/.508/.842 line with five doubles, two triples, three homers, 11 RBI, 16 runs and four steals in 59 plate appearances. If there was one drawback, the 11 strikeouts and zero walks could stand to improve. Otherwise, he set the entire Cactus League on fire.
Still, sending down Puig at this point makes sense. He only played 23 games last season after coming to America, nine in Rookie Ball and 14 in High-A. He crushed the ball in those two stops, putting together a combined .354/.442/.634 line with two doubles, three triples, five homers, 15 RBI and eight steals in 95 plate appearances.
So the bottom line is that Puig might be ready to star very soon, but he'll need to show it in Double-A and maybe even Triple-A before we see him in the show.
Plus, the Dodgers have three All-Star caliber outfielders on the roster in Carl Crawford (yes, he hasn't been All-Star caliber since 2010, but he's only 31), Matt Kemp and Andre Ethier.