Blue Jays ship former ace Ricky Romero to Minors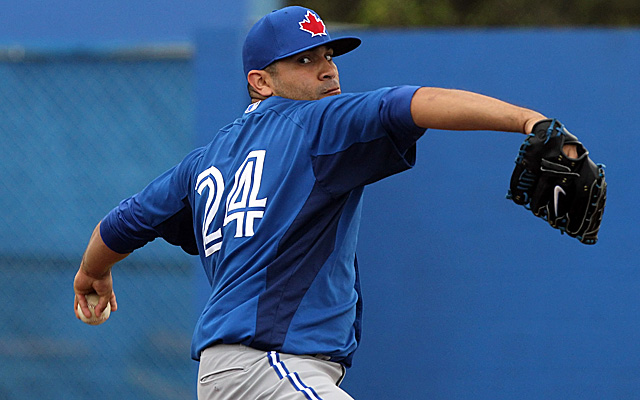 What a difference a year makes. Blue Jays starting pitcher Ricky Romero has been optioned to High-A Dunedin, the club announced Tuesday evening. He's headed to Dunedin to stay in the warm weather and for convenience, as that is where the Jays hold spring camp. So it's not like they are slapping him in the face by sending him all the way to High-A instead of Triple-A, for example.
Still, this marks an incredible fall from grace for Romero. In 2011, he was an All-Star and finished 10th in AL Cy Young voting. He was then the Blue Jays' opening day starter last season, the second consecutive season he was given that honor. After a disastrous 2012 campaign and bad spring, however, he's now headed back to the minors, where he last pitched in 2009.
Romero, 28, was 9-14 with a 5.77 ERA and 1.67 ERA last season. He led the majors with 105 walks issued, a rate of 5.2 per nine innings. So far this spring, Romero has a 7.27 ERA and 2.07 WHIP in 8 2/3 innings. He's walked seven, so control issues continue to plague him.
The Romero demotion is slightly reminiscent of Roy Halladay back in 2000. Halladay had been a heavily hyped prospect but struggled mightily in 2000, so the Blue Jays optioned him to Dunedin to rework his delivery -- and the rest is history. The difference is that Halladay hadn't been close to All-Star form before the demotion. Romero was in 2011.
With Romero out of the equation, at least temporarily, J.A. Happ will be the fifth starter behind R.A. Dickey, Brandon Morrow, Josh Johnson and Mark Buehrle.