Cardinals, Adam Wainwright agree to contract extension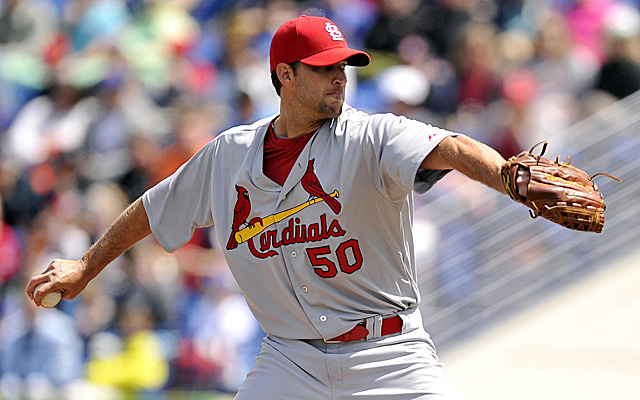 The Cardinals and starting pitcher Adam Wainwright have agreed to a contract extension, confirms Jon Heyman of CBSSports.com. Ken Rosenthal of Fox Sports reports the extension is for five years and $97.5 million.
Wainwright, 31, was already signed through the 2013 season, so this contract takes him through the 2018 season.
At the press conference to announce the new contract, Wainwright's emotions almost got the better of him:
"Usually I am not at a loss for words, but the city of St. Louis means so much to me that it's taken me a little bit to get it out. ... I feel like my heart is in St. Louis. I love it there. I love driving to the field and seeing the arch, driving up and seeing the amazing Busch Stadium. It's a treat to work there every day and it's something that continues to take me off guard and make me feel like I am way too blessed."
The 6-foot-7 right hander went 14-13 with a 3.94 ERA, 1.25 WHIP and 184 strikeouts in 198 2/3 innings. It was a down year for Wainwright, which was to be expected in his first season since undergoing Tommy John surgery. Prior to the lost 2011 season, Wainwright was as dominant as anyone in baseball.
In 2009, Wainwright went 19-8 with a 2.63 ERA and finished third in NL Cy Young voting. In 2010, he went 20-11 with a 2.42 ERA and finished second in Cy Young voting behind unanimous winner Roy Halladay.
So far this spring, Wainwright is 4-1 with a 3.00 ERA, 1.26 WHIP and 18 strikeouts in 27 innings. He is slated to be the Cardinals opening-day starter Monday against the Diamondbacks in Arizona.