Hernandez wins spot in Rays' rotation, Niemann to bullpen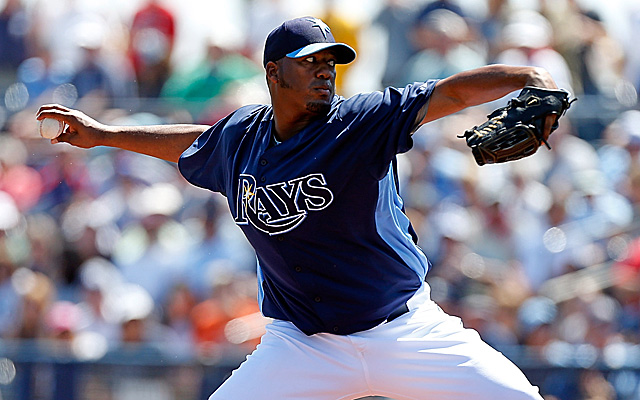 The Tampa Bay Rays have named their starting rotation, and there's a surprise. Jeff Niemann is heading to the bullpen and Roberto Hernandez -- aka the artist formerly known as Fausto Carmona -- will be a starter (via TampaBay.com).
Hernandez, 32, was an All-Star for the Indians in 2010 but fell completely apart in 2011, going 7-15 with a 5.25 ERA. Last season he only made three starts due to the circumstances surrounding his real identity being discovered, but he was bad. He went 0-3 with a 7.53 ERA. This spring, Hernandez has gone 0-2 with a 5.33 ERA, 1.22 WHIP and 14 strikeouts in 27 innings.
Niemann, on the other hand, had a 3.08 ERA and 1.11 WHIP in eight starts last season. This spring he's sporting a 2.92 ERA, 1.10 WHIP and 17 strikeouts in 24 2/3 innings.
From the numbers alone, it's a head-scratching move. No two ways about it.
But here's the crux: The Rays almost always find a way to do the right thing with pitchers. Last season, for example, Wade Davis was moved to the bullpen and had much more success than he ever did as a starter. Meanwhile, Fernando Rodney went from a bad reliever to the best closer in the AL. So it's entirely plausible this move works well, given the Rays' history with pitching.
The rotation lines up like so: David Price, Jeremy Hellickson, Hernandez, Matt Moore, Alex Cobb.