Tigers, Justin Verlander agree to contract extension through 2019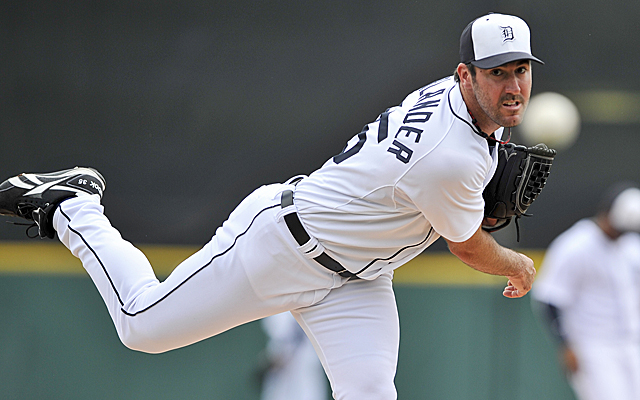 The Detroit Tigers and ace Justin Verlander have agreed to a five-year contract extension through 2019 with a vesting option for the 2020 season, according to the club's official Twitter account. Jon Heyman of CBSSports.com reports that Verlander will now make $180 million over the next seven years with a chance (the vesting option) to make $202 million over the next eight seasons. Contract details were first reported by Buster Olney of ESPN.com.
The breakdown is that Verlander will make $20 million in 2013 and 2014, respectively, and then $28 million per season through 2019. And the vesting option for 2020 is worth $22 million.
This deal makes Verlander the highest paid pitcher of all-time.
Verlander understandably seems pretty excited:
I love this city & the fans - couldn't be more excited to spend my career here! We're going to bring a World Series to Detroit!!!

— Justin Verlander (@JustinVerlander) March 29, 2013
Verlander, 30, is now on track to be a career Tiger. He was drafted second overall in the first round of the 2004 draft by the Tigers and has never been with another organization.
The five-time All-Star has won the AL Rookie of the Year (2006), Cy Young (2011) and MVP (2011). He's led the AL in wins twice, ERA once, complete games once, innings pitched three times, strikeouts three times and WHIP once.
Last season, Verlander went 17-8 with a 2.64 ERA, 1.06 WHIP and 239 strikeouts in 238 1/3 innings pitched, finishing second in AL Cy Young voting behind David Price of the Rays. He was then masterful in the first two rounds of the playoffs, going 3-0 with a 0.74 ERA and 25 strikeouts in three starts against the A's and Yankees, leading the Tigers to the World Series.
In 232 career starts, Verlander is 124-65 with a 3.40 ERA, 1.17 WHIP and 1,454 strikeouts in 1,553 2/3 innings pitched. He seems on a pretty good path to Cooperstown, where we know he'll be wearing a Tigers cap.
$100+ million pitchers
Player, team
Contract years
Amount
Justin Verlander, DET
2013-19
$180 million
Felix Hernandez, SEA
2013-19
$175 million
CC Sabathia, NYY
2009-15
$161 million
Zack Greinke, LAD
2013-18
$147 million
Cole Hamels, PHI
2013-18
$144 million
Johan Santana, NYM
2008-13
$137.5 million
Matt Cain, SF
2012-17
$127.5 million
Barry Zito, SF
2007-13
$126 million
Mike Hampton, COL
2001-08
$121 million
Cliff Lee, PHI
2011-15
$120 million
Kevin Brown, LA
199-05
$105 million