Marlins put top prospect Jose Fernandez in rotation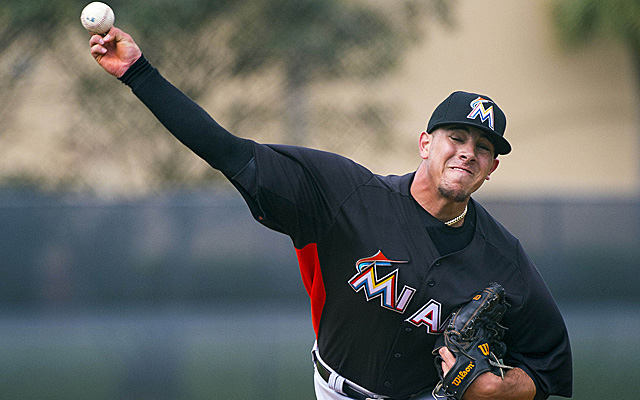 The Miami Marlins finalized their roster Sunday, and it included one shocking nugget: Top pitching prospect Jose Fernandez will be in the rotation right out of the gate. He will make his big-league debut on April 7 against the Mets.
"I know this has the potential to have some criticism," said Marlins president Larry Beinfest (via Joe Capozzi on Twitter). "We are doing this completely with our eyes open."
The reason for the above quote? Fernandez has never pitched above High-A, where he made only 11 starts last season.
Fernandez, 20, was the Marlins' first-round pick in the 2011 draft and is ranked as a top-10 prospect in all of baseball by pretty much every outlet that does such a thing. Most of those outlets, however, projected Fernandez to be big-league ready in 2015 or maybe even next season.
The Marlins hadn't planned on rushing Fernandez, but they were put in a pinch due to injuries to Nathan Eovaldi and Henderson Alvarez.
Though this is a huge leap -- a gigantic one, to be certain -- Fernandez certainly has talent.
Between Low-A and High-A ball last season, Fernandez went 14-1 with a 1.75 ERA, 0.93 WHIP and 158 strikeouts in 134 innings. He only threw two big-league innings this spring, where he allowed only one hit and no earned runs.
Also of note: The Marlins made a flurry of moves and had to clear some space on the 40-man roster. In doing so, they placed first baseman Logan Morrison on the 60-day disabled list, so he won't be eligible to join the team until May 31. (via MLB.com)