Miguel Tejada makes the Royals' opening day roster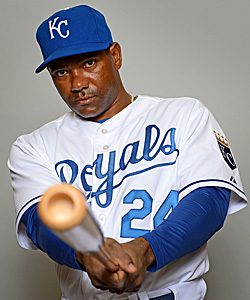 Though he hasn't played in the majors since Aug. 30, 2011, Miguel Tejada has earned a spot on the opening day roster for the Kansas City Royals.
Tejada, 38, paved the way for his comeback with a huge spring. He hit .333/.351/.444 with four doubles in 37 plate appearances for the Royals. He also played in the World Baseball Classic for the Dominican Republic, hitting .316/.350/.368 with a double in 20 plate appearances.
Tejada is a six-time All-Star and won the 2002 AL MVP. He last saw major-league action in 2011 for the Giants, hitting .239/.270/.326 with four homers and 26 RBI in 343 plate appearances.
The Royals won't be looking for much from Tejada beyond infield depth. They're set with Eric Hosmer at first, Chris Getz at second, Alcides Esocbar at shortstop and Mike Moustakas at third. Billy Butler is firmly in as the designated hitter, too. If there is a shot at starting, it would be over Getz at second, should Getz struggle early on.