Tigers' closer-by-committee situation on display Monday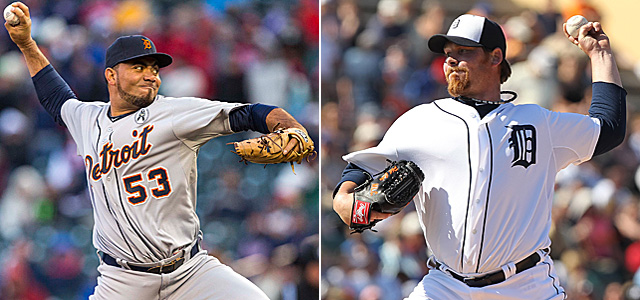 More MLB: Scoreboard | Standings | Probable Pitchers | Sortable Stats | Odds
After would-be-rookie Bruce Rondon failed to nail down the closer job with the Tigers this spring, Detroit headed into the regular season without a "true closer." They said they planned to just play matchups. In Monday's opening day win over Minnesota, that's exactly what they did.
Right-hander Joaquin Benoit pitched the eighth inning and then faced one batter in the ninth, right-handed hitting Josh Willingham. When lefty Justin Morneau came to the plate, left-handed throwing Phil Coke came into the game. He retired Morneau and stayed in to face switch-hitting Ryan Doumit, whom Coke sat down for the final out of the game.
And that's one game and one save for Coke.
"We did just what we told everybody we were going to be doing: We mixed and matched," Tigers manager Jim Leyland said after the game.
So don't go thinking Coke is the Tigers' closer. It sounds like they don't have one. If there's a left-hander set to get an at-bat in the ninth, it's a good bet that Coke gets the ball. If the left-handers come up in the eighth and the ninth inning appears set to be righty-heavy, look for Coke in the eighth and Benoit in the ninth -- or maybe Al Alburquerque in the ninth, who struck out two of the three batters that he faced in the seventh inning on Monday. And remember, the Tigers also have Octavio Dotel, who has 109 career saves.
For the past few decades, we've seen legions of managers, front offices, fans and media fall in love with the idea of having one "proven" or "true" closer residing at the back of the bullpen, but that doesn't mean it's the only way to win games. The Tigers and Jim Leyland are setting out to prove that, in 2013, and it's very possible they end up with much better bullpen flexibility down the stretch.