Scott Kazmir strains ab muscle, may be DL-bound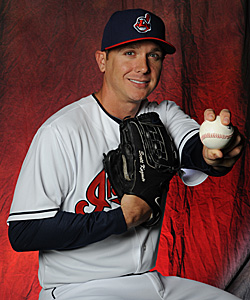 Indians starting pitcher Scott Kazmir strained his abdominal muscle during Monday's club workout and might have to be placed on the disabled list, the Indians announced Tuesday.
"He was playing catch (Monday), and he felt something in his ribcage," manager Terry Francona told reporters Tuesday (via Danny Knobler of CBSSports.com). "We're hoping he can throw a side (Wednesday) and pitch Saturday, but we have contingency plans. The hope is he's fine, but we want to make sure."
Kazmir was placed on the major-league roster earlier in the day while reliever Nick Hagadone was optioned to the minors. The move was made in case Kazmir must be placed on the DL -- meaning the Indians could backdate a potential DL stint or bring up a starter from the minors to take Kazmir's scheduled spot in the rotation on Saturday.
Kazmir enters the season with a chance to become a feel-good story. He's only 29 but hasn't pitched in the majors since April 3, 2011. He was 3-6 with a 5.34 ERA with the Sugar Land Skeeters (no MLB affiliation) last season but won a spot in the Indians' rotation this spring.
At one point, Kazmir looked like one of the most promising young pitchers in baseball. He was a two-time All-Star and one-time AL strikeout champion before he turned 25 but completely fell apart in the 2010 and 2011 seasons.