Is Michael Morse poised for a huge year?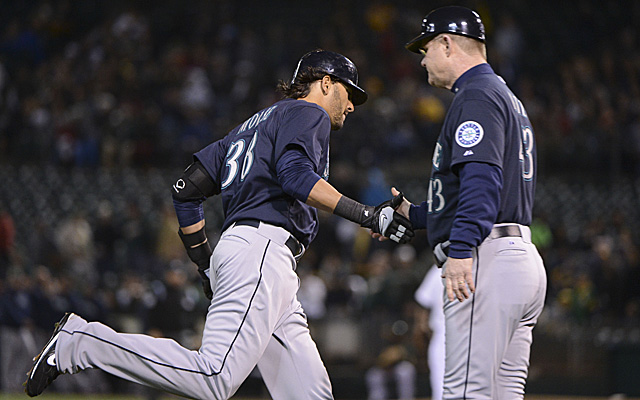 More MLB: Scoreboard | Standings | Probable Pitchers | Sortable Stats | Odds
This past offseason, the Mariners were part of a three-team trade in which they acquired power-hitting outfielder Michael Morse from the Nationals in hopes he would help bring some power to a lineup that sorely lacked it last season. Thus far, it appears that's exactly what Morse is going to do.
Through only two games, Morse is hitting .375/.444/.1.125 with two homers and four RBI. Now, we can't exactly start basing broad-sweeping conclusions over his first two games -- especially since both homers came in the same game -- but there already were plenty of reasons to believe in a big-time Morse power year. The two-homer game on Tuesday just gives us a good chance to look at the reasons that were already present.
First, Morse's surge is a continuation of a hot spring in which he hit nine homers in just 56 at-bats (with a 1.332 OPS). Secondly, he's completely healthy and locked into an everyday job. That hasn't been the case often with Morse. When he does play full-time, though, he crushes the ball.
From 2010 through Tuesday, Morse is hitting .296/.346/.520 with a 162-game average of 31 homers. Remember, no Mariners player hit more than 20 bombs last year, but let's not digress.
Now, we know the Safeco Field fences were moved in, but we also have no idea how they'll actually play. Mariners brass continued to point out throughout the offseason that it will still play like a pitcher's park; it just won't be extreme anymore. And most areas where the fences were moved show only slight movement.
Here's the thing with Morse, though: It doesn't matter. Go over to ESPN.com's Home Run Tracker and check out his 31-homer campaign in 2011 against a Safeco Field overlay. One home run is exactly on the fence -- under the old dimensions, mind you -- and the rest rather easily would have cleared the fence. Do the same with Morse's 18 homers last season and we can see that all of them would have cleared the Safeco Field fences and only one would have even been close.
There's a reason why Morse is nicknamed "The Beast," which is that he doesn't just hit home runs, he obliterates the baseball. His power is among the most prodigious of its kind in baseball.
Since the start of the 2010 season, Morse has homered on 21.8 percent of his fly balls. Only Giancarlo Stanton (25.6 percent), Mike Napoli (22.9) and Ryan Howard (22.2) have higher percentages (via Fangraphs.com).
With a permanent spot in the middle of the Mariners' order, assuming Morse stays healthy, there's every reason to believe he sets a career high in homers and maybe even approaches 40, though a better bet is in the 35 range.
If nothing else, it's gotta be exciting for Mariners fans to get to root for a big-time power hitter again.