The Astros have a big strikeout problem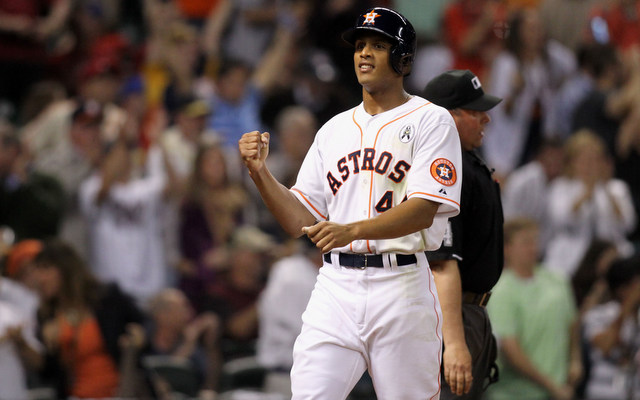 More MLB: Scoreboard | Standings | Probable Pitchers | Sortable Stats | Odds
The Rangers shut out the Astros on Wednesday afternoon, winning the season-opening three-game series despite losing on opening day. The three games all had something in common:
Texas' three starting pitchers all set a career-high in strikeouts while the bullpen added 10 strikeouts of its own. That's 43 (!) strikeouts in the three-game series for Houston, which is a major-league record for a season-opening three-game series, according to Anthony Andro of Fox Sports Southwest. The players' union notes the Astros are the first team in the liveball era with 13+ strikeouts in their first three games.
Perhaps the strikeouts shouldn't be a surprise considering the players the Astros acquired this offseason, specifically Carlos Pena and Chris Carter. Neither guy is a stranger to strike three, and the same goes for other players on the team as well:
The league average strikeout rate has hovered right around 19-20 percent over the last few years, so Houston basically has a lineup that has struck out more than the league average for their careers. It's one thing to have one guy like that in the lineup, say Adam Dunn or Curtis Granderson, but three or four is tough to overcome. There's almost no chance to extend rallies.
The Astros are on pace for 2,322 strikeouts this year and that's just not going to happen. The Athletics set the single-season strikeout rate last year with 1,387 whiffs, so yeah, Houston might break that record, but I doubt it will be by nearly a thousand. Those strikeout rates in the table will settle down and approach each player's career norm once they get more games under their belt.
That said, the Houston lineup is going to result in a lot of strikeouts this year, especially since rookie manager Bo Porter has indicated Carter, Pena and Maxwell will bat 3-4-5 in some order. It's part of the reason why they're expected to be one of the majors' worst teams in 2013 and is something they'll have to correct before becoming competitive again.