James Shields disappointed in Evan Longoria's comments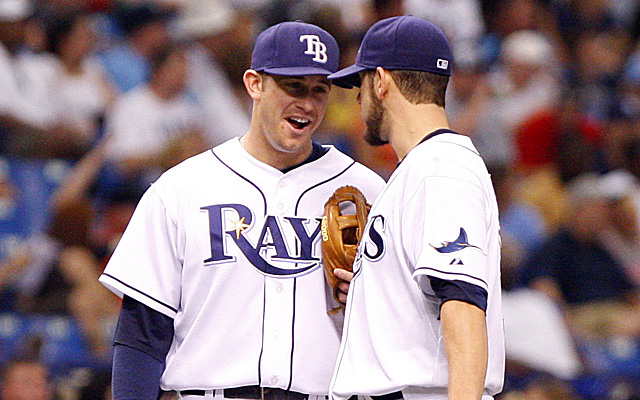 More MLB: Scoreboard | Standings | Probable Pitchers | Sortable Stats | Odds
On Wednesday night, my colleague, Mike Axisa, passed along recent quotes made by Rays third baseman Evan Longoria that seemed to paint the picture that former teammates B.J. Upton and James Shields couldn't shake the losing mentality the old "Devil Rays" had.
It wasn't anything overly dramatic, but it probably didn't need to be said. In fairness to Longoria, he seemed to immediately regret saying it and noted he was "not trying to be negative."
Still, in the Internet era, stuff like that gets plastered all over the place and made into much more than it is. So, naturally, Royals reporters asked Shields for his response. Predictably, what they got back was surprise, disappointment and disagreement.
"It's disappointing," Shields said. "I'm a little bit surprised. Evan is a great player, but I really don't know what he's talking about. I really don't, and I'm being honest with you."

- snip -

"I don't know where he was coming from with that," Shields said, "but, frankly, I really don't care. I'm more worried about the Kansas City Royals, and what we're doing here.

"I felt my time in Tampa Bay was a good time. I felt my leadership over there was sufficient. But I'm moving on. This is my team over here."

- snip -

"I'm not really too worried," Shields said, "about what they're doing over there in that clubhouse and how they feel about me. I had a great time over there when I was there.

"If you ask any of the coaching staff, front-office members or any (other) players in that clubhouse, they'll tell you different (from what Longoria said)."
So, there we have it. This could rather easily fall by the wayside as a meaningless -- and very mild -- back and forth. That's the likeliest scenario in my estimation.
But if there's a brawl between the Rays and Royals later this season involving Longoria and Shields, this is where it started. So, at the bare minimum, this is something that you mentally file away in advance of the two teams playing.
And that's not too far off. The Royals will host the Rays April 30-May 2.