Roy Halladay shelled by Mets, has 14.73 ERA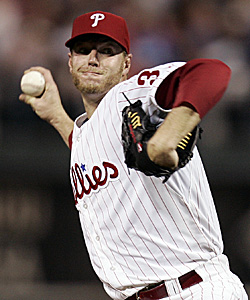 The concerns over Roy Halladay are only going to increase if these are the types of outings he's going to string together.
Monday night against the Mets, Halladay was knocked around the yard to the tune of seven runs on six hits in just four innings. He struck out three but also walked three.
So through two starts this season, Halladay has a 14.73 ERA and 2.45 WHIP. He's walked six hitters in 7 1/3 innings. And though two starts amounts to, yes, a small sample, this is uncharted territory for Halladay in recent memory.
In not going into the fifth inning, the two starts this season became the first time Halladay has gone two consecutive starts of four innings or fewer (via Tyler Kepner on Twitter).
The velocity is an obvious concern, as it hovers in the high 80s or up to 90 or even 91 mph. The command is equally a concern, too, as Halladay averaged 1.4 walks per nine innings in over 1,500 innings from 2005-11. So far this season, he's at 7.4 BB/9.
When he does throw strikes, he's getting hit hard. Halladay has already allowed three homers this season, good for a home-run rate of 3.68 per nine innings. His career rate entering Monday was 0.76 per nine innings. His rate of hits allowed per nine innings (H/9) from 2005-11 was 8.4. This season so far he's allowing 14.7 H/9.
Another nugget of concern here: After Halladay's rough first start, there were reports that he had a problem with catcher Erik Kratz. And Monday, Humberto Quintero got the start behind the dish. And Halladay was worse.
Yes, it's only two starts. But coming off a down year and a shoulder issue and seeing these first two starts, the concern is quickly mounting that the 35-year-old Halladay has serious issues on the hill.