Red Sox sellout streak ends at 794 regular-season games, 820 overall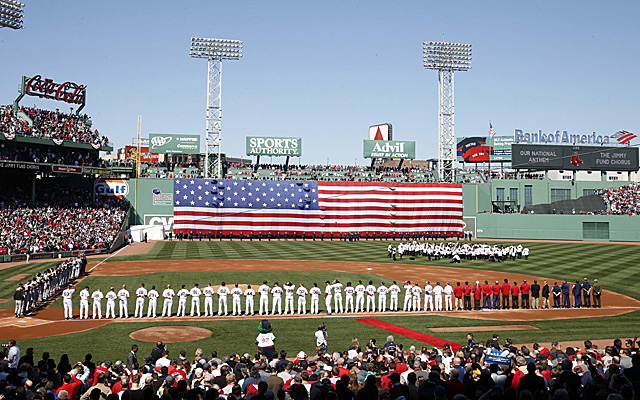 More MLB: Scoreboard | Standings | Probable Pitchers | Sortable Stats | Odds
The Red Sox game against the Baltimore Orioles Wednesday night is not a sellout. And this is noteworthy because it officially ends the famed sellout streak in Boston.
The streak began on May 15, 2003 and ended with a sellout in Monday's 2013 home opener. That means the Red Sox sold out 794 straight regular season games and -- including the playoffs -- 820 games overall.
"The streak is a reflection of a phenomenal period of baseball in Boston and of America's greatest ballpark," said owner John Henry in a statement. "But more than that, it is a testament to the baseball passion of New England fans. As we close the book on this incredible era, we look forward to another with a renewed certainty that the next couple of generations of Red Sox fans will also be enjoying baseball at the ever magical Fenway Park."
The Red Sox sellout streak obliterating the previous major-league record, which was 455 games by the Cleveland Indians (1995-2001) and if the postseason count is included, this was the longest sellout streak in major professional sports. The next-highest number would be 814, by the NBA's Portland Trailblazers.
"We are proud of this historic achievement," said president Larry Lucchino in a statement. "Over the past ten years, more than 30 million, many among the most sophisticated baseball fans in America, have purchased tickets to see games at Fenway Park. Never in that period was there a crowd less than 32,000. No other club in Major League Baseball can make that statement. That speaks volumes about the constancy and dedication of New England baseball fans."
The streak didn't just include lots of fans attending Fenway Park. It included the Red Sox reaching success almost every living Red Sox fan had never experienced. Not only did they make the playoffs six times, but they also went to the World Series twice -- winning it both times. The first of the two World Series titles was the first in the franchise since 1918, as most of us know off the top of our head.
"We have all experienced a wonderful combination of compelling baseball, a revitalized ballpark, and an atmosphere of warmth and hospitality," said Red Sox chairman Tom Werner in a statement. "I'd like to thank publicly our players, coaches, managers, our architects, our designers and construction workers, and our front office and day of game ballpark staff. Their work, together, connected with Red Sox Nation—passionate fans who helped take this team and this park to these heights. It is these fans to whom we are most grateful."
Quite a streak, Boston fans. Well done.